The voice of Passion Talk, Louie Giglio is as sharp as a showman, clever as a professor and powerful as any preacher. A master presenter in sight, sound and speech he is uniquely passionate for the Gospel in the life-changing years of the 'university moment'.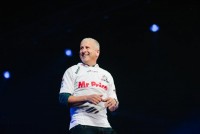 Formerly members of Andy Stanley's 24,000 strong North Point Community Church, Louie and wife Shelley planted their own ministry deep in city-centre Atlanta in 1995. From that local community church, grew Passion City Church and the media based movement that reaches some 44,000 students across the US and more than 170,000 worldwide.
Passion, Performance and Powerful Preaching
You only have to watch one his Passion Talk DVDs to see how totally engaged and engaging Louie is in what he has to say and the way he says it. There's nothing half hearted about his delivery or his uncompromising message: find God, find him while you're young, and hang on to him for life.
And he's not just passionate, he's clever too. He manages to combine the facts and figures of scientific discovery with a worshipful sense of awe that doesn't patronise his audience - something that's vital to reaching his principle audience of young hearts and minds searching for both knowledge and wisdom.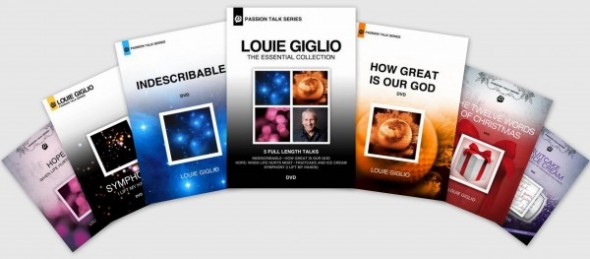 Master of Multi-media: Sight, Sound and Speech
You don't achieve the audience figures of Louie Giglio's internet streamed conferences and live recorded DVDs unless you're at least a bit of a showman. And Louie is a total showman - not for himslef, but for his God.
He's as entertaining as a TV celebrity, as knowledgeable as a university professor and as powerful as any revivalist, tent-crusading Bible preacher. And he knows the message-sticking value of quality music. When he moved into Atlanta, Louie took with him some of Christian music's top worship leaders including Chris Tomlin and Matt Redman.
In founding 'sixstepsrecords' – Louie gave a recording label home to his old friends and allies and a small family of influential Christian artists and worship leaders. Founder of 268 Ministries (based on Isaiah 26:8) and author of books including 'The Air I Breathe', 'Indscribable' and 'I Am Not But I Know I Am', Louie masters powerful images just as effectively as words and music.
Passiontalk DVDs 'Indescribable' and 'How Great Is Our God' are packed with images - a few surprises that drop even the most sceptical jaws.
Answering Your Group's God and Gospel Questions
Louie's newly reissued Passion Talk DVDs, Passion City Church Resource teaching DVDs for small groups and his new 'Alive' DVD give you a range of individual and small group resources to address almost every God and Gospel related question you can think of.
Click the links and go to Eden's Louie Giglio or Passion Talks departments for DVD based resources that speak directly to your questioning teens and twenty-to-thirty-somethings. And don't miss the top value 5-in-1 Passion Talks Essential Collection. – Les Ellison
January 4th, 2013 - Posted & Written by Les Ellison