Pastor Mark Driscoll, who sparked controversy yesterday when excerpts of a forthcoming interview were picked up by the media, has sought to answer critics in a blog post.
Driscoll, 41, who had been quoted as complaining that Britain has no famous young Bible teachers, has claimed his comments were taken out of context.
He said: "Running into reporters with agendas and being selectively edited so that you are presented as someone that is perhaps not entirely accurate is the risk one takes when trying to get their message out through the media.
"With the release of our book, Real Marriage, we have now done literally dozens of interviews with Christians and non-Christians. But the one that culminated in the forthcoming article was, in my opinion, the most disrespectful, adversarial, and subjective. As a result, we've since changed how we receive, process, and moderate media interviews.
"The interview in question had nearly nothing to do with the book or its subject matter, which in my understanding was supposed to be the point of the interview. My wife, Grace, was almost entirely ignored in the interview, and I felt she was overall treated disrespectfully. The only questions asked were about any controversial thing I've ever said in the past 15 years with a host of questions that were adversarial and antagonistic."
And he has complained that the interview from which the quotes were taken was far from impartial.
"It felt like a personally offended critic had finally gotten his chance to exercise some authority over me" He added.
Journalist Justin Brierley, the Premier Radio presenter who conducted the interview with Driscoll has responded to Driscolls criticism on twitter, saying that he will put the full audio of the entire interview online this weekend, so that listeners can judge for themselves on his 'tone'.
Brierley, who studied Politics Philosophy and Economics at Oxford University is well known for his interviews with high profile guests like Richard Dawkins.
He is generally considered a firm but fair interviewer, but there is quite a difference between the culture of media interviews in the USA and the UK.
Brierley, whose program 'Unbelievable' airs on Premier every Saturday,said that he had no intention of upsetting the Driscolls, and made it clear that he had quite a different view on how the interview had been conducted.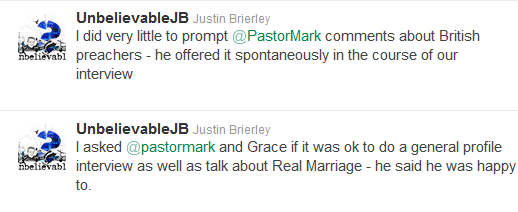 Pastor Driscoll has a history of controversial statements, and has occasionally had to apologise for comments which had been seen as inflammatory.
But observers have noted the rapid growth of his church which began as a small meeting in his living room, and is now a massive multi-site church based in Seattle but reaching across the United States.
While he was at one time seen as a member of the 'Emergent' church network in the USA, he later distanced himself from other Emergent leaders after disagreeing with points of doctrine which he considered to be too liberal.
The interview with Brierley was part of a schedule of media engagements designed to promote his new book 'Real Marriage' which he had co-authored with his wife Grace.
January 13th, 2012 - Posted & Written by Simon Cross