Michael English
Product Listing
Showing Michael English
1 to 3 of 3
Paperback

Stock available




Out of stock




In Stock - Usually dispatched within 24 hours
Michael-english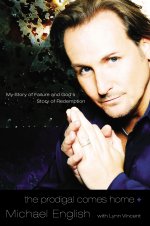 Top Michael-english Products

The Prodigal Comes Home by Michael English
The Prodigal Comes Home Tells the redemption story of Michael English. In 1994 Michael's music career was rising rapidly when his world fell apart. Newspapers all over the world released a headline stating "Gospel Singer Named Artist of the Year Turns in His Awards After Confirming He Had an Affair with a Fellow Married Singer." The next eight years of Michaels life was almost destroyed due to divorce, public shame, drug addiction and homelessness. In 2002 Michael reached out to the Lord, and in his unending forgiveness rescued Michael from himself. This truly honest story explains how Michael became whole again.

Some People Change by MICHAEL ENGLISH


Some People Change by Michael English
With his powerful vocals Michael sings gospel favourites and originals about true transformation in Christ. Includes "I Ain't Givin' Up on Jesus " "Come to the River " "I'd Rather Have Jesus " "I Know You Were Waiting " "On That Great Day " "In Christ Alone " "I Wouldn't Take Nothing for My Journey " "Waking Up the Dawn " "Stubborn " the title track and more.

Your New Life in Christ by Michael H. Clarensau
Self-study discipleship program for new Christians. Teaches fundamentals of Christian life, introduces God's Word as the source of faith and conduct, and teaches how prayer is communion with God. Includes verses to memorise.

Greatest Hits : In Christ Alone by English, Michael


Apostolic Fathers In English by Michael W Holmes
"The Apostolic Fathers" is an important collection of writings revered by early Christians but not included in the final canon of the New Testament. Here a leading expert on these texts offers an authoritative contemporary translation, in the tradition of the magisterial Lightfoot version but thoroughly up-to-date. The third edition features numerous changes, including carefully revised translations and a new, more user-friendly design. The introduction, notes, and bibliographies have been freshly revised as well.

Bible Wars & Weapons by Rick Osborne
"What excites boys more than action, adventure, and cool weapons? In Bible Wars & Weapons boys ages 8 to 12 can read all about the action and adventure of battle in Bible times. They can experience the thrill and intensity of battle from the frontlines--with those who led the battles and the soldiers who fought them.;Filled with cool maps that show sites of battle and illustrations of army units, boys learn about tons of cool equipment and the armor used during that time. This is action and adventure at its best--straight from the pages of the Bible. As part of the 2:52 Soul Gear(tm) collection, these high-energy, fast-moving stories will encourage boys in their quest to be smarter, stronger, deeper, and cooler as they develop into young men of God."

Oaths and the English Reformation by Jonathan Michael Gray
The practice of swearing oaths was at the centre of the English Reformation. On the one hand, oaths were the medium through which the Henrician regime implemented its ideology and secured loyalty among the people. On the other, they were the tool by which the English people embraced, resisted and manipulated royal policy. Jonathan Michael Gray argues that since the Reformation was negotiated through oaths, their precise significance and function are central to understanding it fully. Oaths and the English Reformation sheds new light on the motivation of Henry VIII, the enforcement of and resistance to reform and the extent of popular participation and negotiation in the political process. Placing oaths at the heart of the narrative, this book argues that the English Reformation was determined as much by its method of implementation and response as it was by the theology or political theory it transmitted.

Apostolic Fathers The 3rd Ed Hb by Michael W Holmes
Following last year's publication of his thoroughly revised translations in "The Apostolic Fathers in English, 3rd ed.", a leading expert on these texts offers a thoroughly revised and redesigned bilingual edition, featuring Greek (or Latin) and English on facing pages. Introductions and bibliographies are generous and up to date. In the textual apparatus, existing notes have been revised and expanded, and well over 200 new notes have been added. This handsome and handy one-volume, thin-paper edition, with ribbon marker, will be an essential resource for students and scholars and a joy to book lovers.

Translating the Bible Literally: The history and translation methods of the King James Version, the New American Standard Bible and the English Standa by Michael T Schmid