The Bible is a big book by any standard. But the print is often painfully small.
Easy-to-read Bibles are essential to the inclusive message the Bible carries. Most modern translations and the traditional King James (KJV) Bible are readily available in large print easy-to-read editions.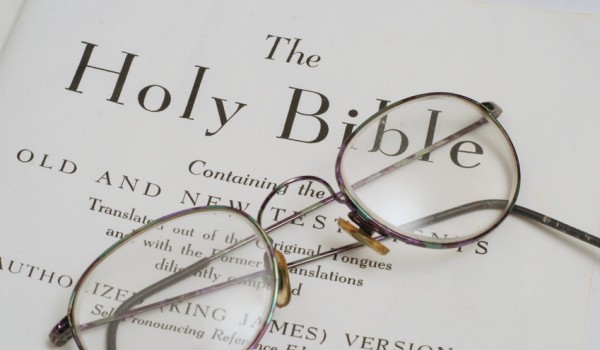 Large Print Bibles, Study Bibles and Commentaries
Designed for ease of use and practicality, large print Bibles are no less attractively bound and presented than standard print editions of the same translation. Most include all the extra features - including an index, dictionary, maps and daily reading plans, expected of standard print Bibles.

Leather bound large print Bibles make excellent gifts, while separated multi-volume editions make each volume easier to hold and manage as well as easier to read. Large print editions of supporting resources, such as study plans and commentaries are also available for most modern translatio
Choosing a Large Print Bible or Easy to Read Bible
Choose a Bible with a large enough print (font) size.
First choose the Bible version or translation that you prefer and check what 'font size' is used to describe the size of the text inside. Font size is measured in 'points' - the higher the 'point' number the larger the size of each letter in the text.Choose the size of the type.

Standard Bibles often have font sizes between 7 and 11 points. Large print Bibles should be 13 points or more. The largest font size is usually between 16 and 18 points and often referred to as 'large' or 'giant'.
Choose a Bible that's not too big and heavy.
Next check the number of pages, the overall size and the quality of the paper. A large print Bible may be so large and heavy that it's difficult to hold, or the paper may be too thin and fragile to handle easily.
Choose a Bible that suits how you'll use it.
Choose yourself a cover and binding strong enough for the way you'll use your Bible. If it's for reading only at home a softer binding might be enough. If you're going to carry it to church or home group every week, a binding that is sewn instead of glued will last longer.

Find out what's inside. Make sure the dictionary, concordance, reference sections and any maps or charts are in large print as well and easy to read. You might want a Bible with a fold out that's large enough to read easily.
Choose the Bible you'll love and enjoy!
Finally, you'll want a Bible you can love and be proud of. Choose yourself a cover design that suits who you are and make opening and reading your large print Bible a daily delight.
Quick Guide to
Quick guide: Large print and easy-to-read Bibles

Large print Bibles - what are they?
Any Bible with an easy to read text, usually with a 'font size' larger than 13 'points'.
Available for most modern and traditional English translations and versions.
Available in a wide range of traditional, economy, study and download versions.
Large print Bibles - why should I have one?
For ease of reading not only the Bible text but the dictionary, study notes, maps, etc.
For private reading, personal study and public presentation in groups and churches.
As a gift for another who would benefit from the ease of reading a larger print Bible.
December 15th, 2011 - Posted & Written by Les Ellison