There is a remarkable sense of focus on this, Passion Worship's latest live album. Whole Heart is a timely response to a tide of identity anxiety that students and young people are facing more and more each day. It's a celebration of God's immensity, and of finding yourself not in the world, but in God.
Grandiosity has become, over the course of several live albums, a sort of calling-card for Passion Worship. Characterised by crowds, each release swells in audience size. Busing in students from miles and miles, their latest release was recorded in front of 32,000 students; each of them singing to a God they want to find their identity in. And the songs of Whole Heart stoke this desire to become more like God. From the outcry of 'More Like Jesus,' to the beautiful cover of Cory Asbury's 'Reckless Love,' to the album's title track, Whole Heart is Passion's more purposeful and powerful release to date. It's a calling in need of hearing. It gives young people a vocabulary of surrender to God.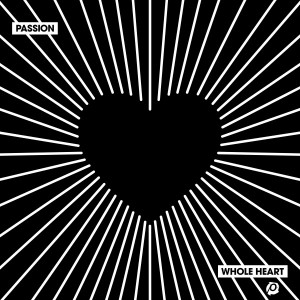 In a time where the self is championed, where identity politics sounds out loader then community and purpose, the lyrics of Whole Heart tell a different message. With lines like "If more of you means less of me, take everything," and "My hope is in the blood of Jesus / I know who I am, because of who You are," Whole Heart is at odds with the world around it by daring people to look beyond themselves.
Kristian Stanfill, one of the core members of Passion describes the heart of the album as "a collection of songs that calls for the listener to lift their eyes above the heartbreak and hurt of life, to a King who is reigning and speaking unparalleled love over us,".
Across all of Whole Heart is a purpose. In these anthems of healing and surrender are hearts bursting with a desire to seek God. More than just a collection of worship songs, the album is a laser-focused message for now. It's rare for an album to be this guided, but in the face of a crisis of identity, Whole Heart an answer. By focusing alone on God's goodness, and on finding who we are in it.
Urgent, timely, and powerful; Whole Heart is one of Passion's greatest releases to date. It exists to a purpose, to spread a message, and to bring hope for young Christians who feel in flux today. Also, having Matt Redman perform All Sons & Daughters' Great Are You Lord is an absolute delight.
And, as a final send-off, All My Hope by Crowder and Tauren Wells is bluesy, folksy, old-time Gospel song that feels like someone gave Crowder free-rein to channel his love of the Deep South. It's a song that feels timeless and, whilst definitely playing to the crowd somewhat, still rings with old truths and rhythms.
Whole Heart by Passion is due for release on the 23rd March 2018. Pre-order your copy here.
February 27th, 2018 - Posted & Written by Aaron Lewendon