I'm really excited that my latest children's book, 'Where's God Gone?' is published this month but the process of its creation was somewhat different from normal. Let me explain.
Last year I was invited to consider re-writing an evangelistic book which was already in print and to re-render it for children. After much deliberation I kindly declined the opportunity, mainly because the approach wasn't one which I'd use. That's not saying it was wrong, just that it wasn't for me.
But what it did do though was highlight to me the need for a book which could be used to lead children into a relationship with Jesus.
My publisher, CWR, also recognised that this was something worth pursuing and so I began to pray for inspiration as to how to craft a book which would explain the essentials of becoming a Christian and which kids would want to read.
I got the title quite quickly. That was the easy part!
'Where's God Gone?' - no it's not a Christian 'Where's Wally?' - reflects the biblical truth asserted in Romans 1:20-21 that everyone has an innate knowledge of God and the recognition that most people at some time in their life will either cry out to God or at least ponder his existence.
But the look, feel and narrative. That was another story, literally.
The lofty ideal of producing a book that intrigued as well as engaged kids was the bigger challenge.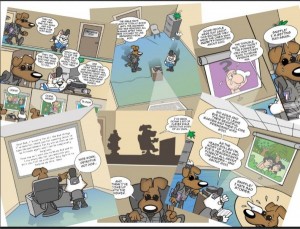 Very early on I knew the format would be a cartoon, graphic novel style book but the question of how to grab a child's interest (and keep it) needed a lot more thought.
Fortunately for me, waiting in the wings were a couple of cartoon characters I'd created around twenty years ago but who I'd never actually done anything with. At long last, Hot Dog and Kool Kat were going to have their day in the sun.
In fact, they were also getting promotion and would now be Detectives Hot Dog and Kool Kat, 'the detective dudes'.
'Where's God Gone?' would be written as a missing person mystery with the detectives dudes charged with solving it.
As I often say, "I was brought up with a book in one hand and a comic in the other", so the cartoon graphic novel genre was the ideal way for me to style 'Where's God Gone?'.
This would also make it immediately appealing to children.
It's probably easier to present a book to an adult about the need for Jesus but I think that children, typically, aren't so responsive to this approach.
So, the book had to be entertaining in its own right.
A book which kids wanted to read, not had to.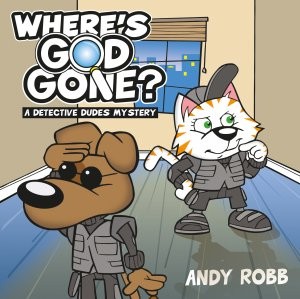 'Where's God Gone?' is designed for holiday clubs, kids' ministry events, Sunday Schools, Light Parties or simply for your own children or grandchildren.
My prayer is that the Holy Spirit will take 'Where's God Gone?' and use it to open children's hearts to God.
That He will bring them home to the God who had, in fact, never gone anywhere but was always waiting for them with open arms.
Where's God Gone? is also available in packs of 10, 20 & 50 and is available to pre-order today.
Andy Robb is a popular and award winning children's author and illustrator. He is the writer behind Derek the Cleric and the '50 Bible Stories' series.
When he's not busy writing and drawing he is also the co-lead of Revival Church Billericay alongside his wife, Jane.
July 11th, 2018 - Posted & Written by The Editor