Rend Collective have a brand new Mixtape out soon, but what is the best thing you can do with it?

When you love something, the most natural response is to share it. Be it a favourite book that awakens you to a whole new range of emotions, or an amazing meal that does just the same, we thrive from sharing.
Nobel Peace Prize winner Albert Schweitzer said that:
"Happiness is the only thing that multiplies when you share it."
So when a favourite band releases a "mixtape" of their best songs from across the years, there are several things you could do with it. You could listen to it, which seems pretty obvious. If you were a little rushed and have guests over, it could work as a coaster or an indoor frisbee. But our favourite is to share it.
These are all songs you've heard before, but somewhere out there is someone who hasn't. Someone who doesn't get giddy at the thought of Build your Kingdom Here being next on the list. Someone who doesn't know how impossible it is to sit still during Movements.
And so here's our suggestion:
Don't buy A Rend Collective Mixtape for yourself.
You already know all the songs.
Instead, imagine that one friend you know who would absolutely love it. Go on, I'll give you a second to think.
[...]
Thought of them yet?
Great!
Now, how great would it be if you two had something new to be excited about?
Expressing genuine excitement about something has shown to not only boost enthusiasm, empathy, and mood levels, but is a vital way of connecting with others. What is a Church, after all, but a group of people excited about God, and who want to share Him with others? We live to share. It's what communities are build on - from book clubs to battle re-enactors our passions require people to survive, and mixtapes provide that.
Putting together songs that shouldn't work, but do; creating that electric balance of sounds that makes the hairs of your arms stand on end; finding the perfect blend of your favourite music - all to then share with a friend, and in doing so, saying 'Here, this is me, this is my music'.
Mixtapes have sharing in their blood.
Build Your Kingdom Here: A Rend Collective Mixtape will be released on the 12th May 2017, and can be ordered here.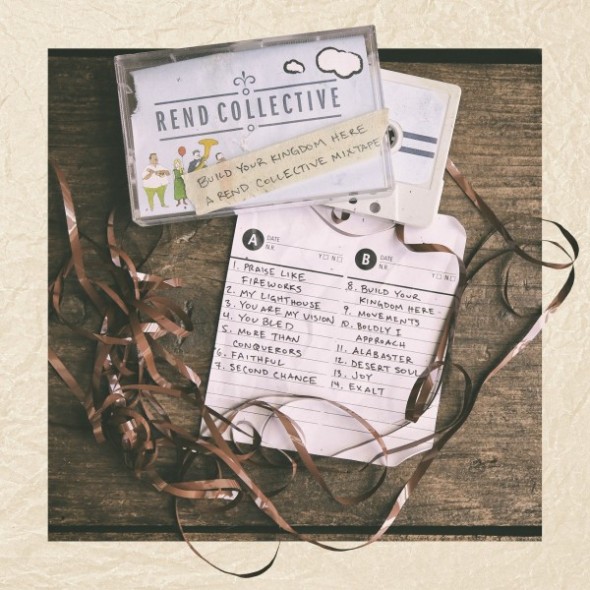 April 25th, 2017 - Posted & Written by Aaron Lewendon