As the government consider plans to redefine marriage, to allow same sex couples to wed - evangelical Christian leader Gerald Coates has spoken out about his opposition to the idea, in an exclusive interview with Christian.co.uk.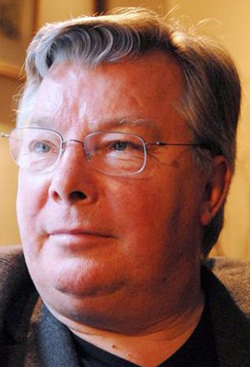 The founder of the Pioneer network of churches says that it's absurd to suggest that churches should be told by government who they can and can't marry, and he says that his view is shared by the vast majority of Christian leaders.
Coates, 67, says that he believes the debate could become the issue which undermines David Cameron's premiership, his statement came as the results of an online poll indicate that 70% of people are opposed to the idea of redefining marriage.
And the veteran church leader has also hit out at claims that he is homophobic, saying that in fact the truth is that 'the pro gay marriage lobby' are frightened of the growing influence of evangelicals.
Speaking in an exclusive interview, Gerald said: "Firstly I think the most humorous aspect of this is when the anti-Christian, anti-family pro-gay lobby (a tiny minority in the broadly gay community) went public to say that it is not up to church leaders to say who they marry in their churches. When I read this I emailed a friend and said we really couldn't make this stuff up! It is utterly absurd that they should be telling church leaders who we can and can't marry.
a number of lesbians and homosexuals are coming out saying that we should not redefine marriage
"On a more serious side, it is very interesting that a number of lesbians and homosexuals are coming out saying that we should not redefine marriage. Christopher Biggins, the TV entertainer and himself gay, has come out very clearly to say we should not. Julie Bindel, a journalist, feminist and lesbian, said trying to redefine marriage, and I quote, 'is a waste of time and effort'. They do see marriage as something special and different.
"Michael White in The Guardian has said that it would be wise not to redefine marriage – a man very well known for speaking his mind. He said that it is universally accepted that a female egg and male sperm is needed to see the continuation of the human race.
"This really is an interesting turnaround by prominent people within the network of gay people declaring the special nature of marriage.
"It has been amazing that all the main church leaders have come out to say we mustn't redefine marriage too. The Archbishop of Canterbury, the Archbishop of York, all the New Church leaders, the senior leaders of the Catholic church, the Evangelical Alliance, are all saying the same.
This could be David Cameron's Achilles' heel
"This could be David Cameron's Achilles' heel, in the same way that the hunting ban was for Tony Blair. It seemed to be a small issue and it seemed that the public would be on the side of the ban but it went on and on to dog him and nothing changed.
"I think he has has been lobbied very strongly for a long time to legalise same sex marriage and probably thought public opinion would allow it through.
"I don't know how many have signed the Campaign for Marriage petition but on Monday this week there were over 100,000 signatures. And a letter has just gone out to every Roman Catholic church in the country.
"We're not against certain types of sexuality in this campaign, we're just for marriage and for it being between a man and a woman. Of course there are all sorts of families, one parent families etc that are doing a brilliant job with their child or children – this is in no way demeaning their important role in society. Most of those people find themselves in a less than ideal situation due to default, sickness, death, unfaithfulness or divorce – not because they have designed it that way."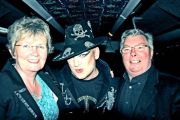 "But I'm tired of being labelled homophobic just because I've made a comment on my beliefs on homosexuality or marriage. Peter Tatchell started this off, but today those of us who are evangelicals and speak up for marriage find that label being attached to us by members of parliament too. But it is a complete misuse of the language.
"A phobia is a fear, and I'm certainly not afraid. I actually believe the boot is on the other foot, and those who are very pro-gay marriage, and vocal about it, are fearful of us and our growing numbers."
March 8th, 2012 - Posted & Written by Claire Musters