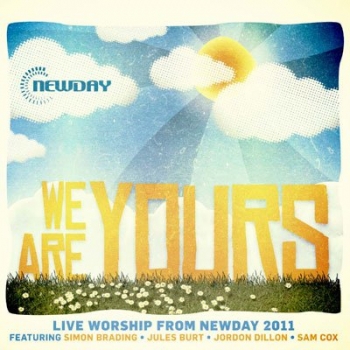 Thousands of teenagers gathered to the 8th annual Newday festival last summer. Like previous years, the week included teaching, sports, and lots of music.
While previous Newday albums have felt rushed, I'm pleased to report We Are Yours has captured the Newday atmosphere extraordinary well.
The album is a little on the short side with just 10 tracks. Four out of 10 songs are covers, leaving six originals penned by the four worship leaders featured: Simon Brading, Jules Burt, Sam Cox and Jordan Dillon.
The album opens with one of the most powerful worship songs of the year. Simon Brading's cover of Matt Redman's Here For You is yet another version of the song to be released in recent months but it still packs a punch.
Track two is Jules Burt's No One Better. It's a good song, but it's her other track Devotion that really makes its mark. Clear vocals, complex guitar riffs and simple drumming make it the stand out song.
Title track We Are Yours is the song everyone from the event is talking about. From a musical perspective I wasn't blown away, but thanks to top notch production, there's plenty of energy behind every pulsating drum beat chant of "we are yours"
One excellent track I can't get enough of is Thank The Lord. I dare you to listen to it without getting your grove on! Featuring some outstanding bass and guitar work, this is the funkiest track ever to appear on a Newday album. Top marks go to Jordon Dillon for this phenomenal effort.
Next up is the song that combines football chants of "Who are ya?" with Latin, theology and… more football imagery. Christus Victor is without doubt Simon Brading's biggest song since 2007′s Our God He Reigns. If you haven't heard it yet, you're in for a treat.
The final track, Our God Is Holy, comes all too quickly. It feels like the album could have done with a couple more tracks to make it whole. Nevertheless, the contemplative, thoughtful song makes for a fitting end to a powerful album. It's one of my favourite songs on the record, and probably the best end to any Newday album out there.
This Newday album stands out above the rest. One of the reasons is the uniqueness of Newday has been captured on the album. When you listen to We Are Yours, you are listening to the true sound of Newday.
Some live worship albums sound like the band are playing underwater and a choir has been added in post-production. But We Are Yours retains a live atmosphere while recognising the need to add in extra guitar parts and vocal lines in the studio.
Rating: 7 out of 10
February 10th, 2012 - Posted & Written by Sam Hailes