This month has seen the movie release of WM Paul Young's 18 million copy international bestseller The Shack. Whether you loved the book and can't wait to see if it lives up to your expectations or you struggled to get past the concepts he raised we wanted to give you the lowdown on the latest Christian blockbuster.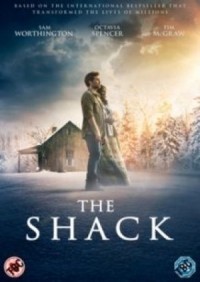 The basic storyline of the film follows the journey of restoration for Mack whose daughter is abducted causing him to question everything and walk away from his faith. He then receives a mysterious letter inviting him to meet with 'Papa' at a shack in the middle of the woods.
Having read the book many years ago I wasn't exactly sure what to expect or how they were going to pull off a story primarily based on a set of conversations with God. But I was really moved by it, I found Sam Worthington's depiction of Mack sincere and believable and his personal struggle through the film was well acted and gave the viewer a real sense of the pain and questions he was wrestling with.
British director and Holy Trinity Brompton member Stuart Hazeldine has taken Young's fictional work and effectively presented this moving story of forgiveness and challenged people's perceptions of the Trinity.
Mack's interactions with all 3 members of the Trinity helpfully reflected something of God's nature whether the rugged humanity of Jesus played by Aviv Alush or the ethereal and mysterious Sarayu and my personal favourite, Octavia Spencer's portrayal of Papa. I took something away from each of the characters and was impressed by the visual storytelling of such a tricky and in many ways impossible task. I can only imagine how Octavia Spencer began thinking through how she was going to play God!
Although a little cheesy in parts, The Shack movie really did justice to a book that has moved so many people and brought about healthy conversations and restoration for those resonating with the characters in the story. I hope that the Church will head to the cinema to watch it and talk about it – it's not often that a Christian film will be shown across the country so widely!
The Shack DVD can be pre-ordered now. You can find your local cinema viewing and book tickets here.
Movie tie-in edition of the book is available to buy now as well as Church discussion bundle.
June 27th, 2017 - Posted & Written by Anna Hockley