Hotly anticipated as our biggest fiction title in 2018, Francine Rivers does not let the reader down with The Masterpiece.
Packed full of redemption, Rivers weaves together the best of two worlds - a messy/complicated romance story and a Father's relentless love for his children. If you're looking for a meaningful story that'll have you eagerly turning the pages to get to the next twist, as well as give you something more to think about, then this is the book for you.
One of my favourite elements of the story is the way in which Rivers moves between time periods as you discover the backgrounds of both Roman Velasco, high flying artist with a chequered past and Grace Moore his personal assistant. Hinted at in the beginning of the story, things are not always as they seem with both characters experiencing traumatic upbringings which sends them down complicated and troubled paths. I also enjoyed the way Francine challenges the status quo about family. So many of the characters' broken relationships lie in their families, and The Masterpiece represents 'family' in so many different ways - church family, friendship groups and of course the most important that we are a part of God's family, children to the perfect Father figure.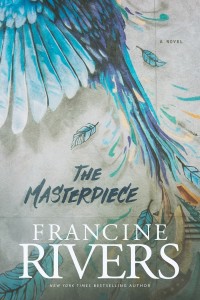 Without giving anything away I can say The Masterpiece is a story that unashamedly declares the Gospel. You can't escape the message that runs throughout - God doesn't let you go, His love for you overcomes all things and all you need to do to accept this, repent and believe. Grace (ever so aptly named) constantly reminds Roman who he really needs in his life, that all the things he thinks will satisfy him will not fill the whole in his life. Many of the lesser characters in the novel also play their part, and for me this was an encouragement not hide the Good news message with those who initially do not want to hear it. Grace is upfront and bold in her faith, she's not the shout-it-from-the-rooftops, overly confident evangelist. It's her honesty and lifestyle that shouts louder.
Francine Rivers is known for her biblical fiction and although The Masterpiece doesn't technically fall into this camp, it's most definitely a story of prodigals coming home. Nearly all the characters in the story have faced personal difficulties, traumatic childhoods and broken relationships yet there is so much healing in this story that you can't not see God's goodness and healing in their transformations. But don't be fooled into thinking this story is contrived and trite. Rivers deals with some really difficult topics and challenging tangents echoing that we live in a fallen, broken world. The Christian characters are not spared of these trials and temptations. If anything they have some of the hardest things to overcome, and in that sense Rivers' novel is relatable and realistic.
Ultimately, The Masterpiece is a great depiction that all of us are God's masterpiece, His children, made in His image and designed with purpose. He will pursue you passionately and relentlessly. There is much more to learn from this story than first meets the eye!
The Masterpiece by Francine Rivers was published by Tyndale House Publishers, and can be ordered here.
February 6th, 2018 - Posted & Written by Anna Hockley