Peace. It's one of those things that seems in short supply these days. Even among Christians, it's a rare commodity. Most of us, if we're honest, find it far easier to worry than wait on God's good purposes. That's certainly true of me. It's true of the people I chat to day-byday. So it's no surprise that books on anxiety are hitting the shelves of bookshops – both Christian and secular – in abundance. There's a real thirst for some answers to the problem of worry. Of course, some books are more helpful than others.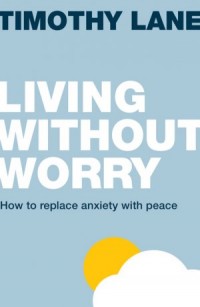 Living Without Worry is the latest such title to pass my desk. Written by Timothy (Tim) Lane of the Institute of Pastoral Care, it's just 140 pages long and is absolutely packed full of accessible, biblical wisdom.
Tim grabs his readers from chapter 1, showing that he knows what worry is like. Whether we worry a lot or a little, most of us can relate to the common emotional, physical and spiritual effects of anxiety and stress he explores. But he's not simplistic – he knows that different people will struggle with different levels of worry and that the roots of worry can lay in very different places. Worriers are not a homogenous group.
Chapters 2-5 are a tour of those different places from which worry can stem. For some, worry is rooted in past guilt, for others, past experiences of pain – for some, worry is linked to fear about the future, for others still, worry is firmly embedded in the complexities of the present. And people in each of those diverse circumstances face different challenges.
At every turn, Tim's words are flowing with compassion – some of the things we face as human beings are tough and there's no sense in which we are expected to be immune to the traumas of life.
For the guilty, he holds out words of grace; for the crushed, words of hope, for the fearful, words of confi dence and for the burdened, reminders of God's presence and provision – and he invites people who are currently walking away from those truths to turn around and come back to the cross for all they need. Deeply embedded in this book's pages is a conviction that moving away from worry means changing direction: turning away from things we are pursuing too much and moving towards the God we don't love enough.
That might sound a hard ask but chapters 6-11 address the process of change in more depth. In a method which Tim describes as "graceladen",
readers are encouraged to walk through times of self-reflection and biblical refl ection. It's a route that aims to re-orientate and reinvigorate people's trust in God in ways that feel completely manageable even to those of us prone to worry a lot. But it's more than a "how to" scheme, the process he describes is deeply with exciting emphases on talking with God and others. Indeed every chapter is infused with encouragement to become ever more reliant on the God who loves and saves and to share lives ever more deeply with our brothers and sisters in Christ.
At the end of each chapter, there are questions for reflection. As such, this is a book best read slowly with plenty of opportunities for thinking built in. But the questions mean it's also a book that lends itself well to being read with a friend – or a group of friends – meeting together once a week to chat things through. What a wonderful framework for mutual encouragement this could be!
There is no doubt in my mind that this is a book to recommend far and wide. Living Without Worry has a feel of a book that wants to walk alongside you rather than preach at you and that makes the process of transformation feel more manageable. But it's not a book that claims too much for itself. Tim isn't so naïve as to think that one read of his book will eradicate anxiety from the lives of church members everywhere. It's a book that helps people take a step towards trusting Jesus more and to keep on taking steps as the months progress.
I think that's what has encouraged me, personally, the most. Those of us who struggle with worry can sometimes feel like there is no hope. Maybe I'm just the "worrying type", I muse. But having read this book (twice!) I've taken a significant step – I've progressed down the road of seeing Jesus more clearly and trusting him more closely, I've seen that change is possible. That's exciting personal growth. And it means that, on a ministry front, I'm looking forward to recommending this book and reading this book again with others who struggle. I have no doubt it is a book that will help produce spiritual fruit in the lives of many.
June 11th, 2015 - Posted & Written by Together Magazine