Delighted to share the good news that the Strathaven Easter Trail is 'on' again this year!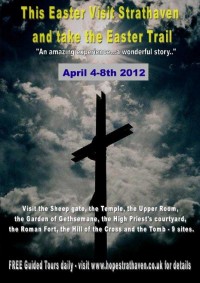 This is a very graphic illustration of the Easter story, using the South Lanarkshire town of Stra'ven as a backdrop for touring the 'scenes' of the Holy Week. There are also guided tours available as well - details are on the website.
If you haven't experienced this before, well worth making a special trip to experience to Stra'ven! If you have benn before - you will know it is worth another visit - a great chance to reflect on the historical events of the death and resurrection of Jesus.
http://eastertrail.yolasite.com/
March 28th, 2012 - Posted & Written by Andrew Lacey