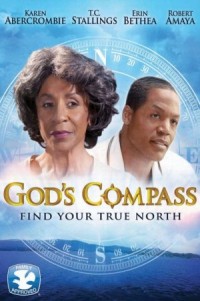 The Christian Film Review share their thoughts on Christian featue film God's Compass.
God's Compass is a compelling, dramatic and inspirational film that will take you on journey whilst exploring God's direction in our lives.
The film starts off with the retirement of school teacher Suzanne, while her son David is busy performing surgery as a doctor. David's wife Jessica is driving home when she suddenly goes into premature labour and has to stop her car, at this moment Eli, a homeless juvenile delinquent goes to steal her car and faces a decision that will change his life, Jessica's life and the baby's life. Eli decides to help, however once they arrive at the hospital he is arrested. This is just the start of the film but it alters the lives of everyone and each go on a journey through the film. A journey of struggles, of emotions, of pain, but most importantly a journey of faith and following God's calling.
Even though this is a low budget film, it is very well produced. The film is rightly paced and has a great storyline that will have you hooked to each character's journey which are wonderfully woven together. The film stars some great actors including T.C Stallings, Karen Abercrombie and Joey Ibanez, who all bring their characters to life, helping to carry you into their emotions, struggles and journey, leaving you rooting for them and experiencing what they are going through.
As the film progresses there are some twists and turns which add to the excitement and intensity. We see the woven storylines of each character and how they connect, we see how they struggle wondering if their baby will live, we see Eli trying to find acceptance whilst also trying to find his lost sister and we see what happens when people help out of love.
The end scene is one of the most powerful and emotional scenes in the film, bringing a real sense and picture of God's love for us all and a sense and feeling that whilst they have completed their journey, another has just begun.
God's Compass leaves you thinking about your journey and where God will take you, what does He have in store for you and what journey are you currently on. It also brings home thoughts about helping other people, how we can make a difference in other people's lives and that God can work all things together for His good.
Overall God's Compass is a compelling and must see film that demonstrates that no matter what we face in life, God will guide us through if we trust in His plan for our life.
September 20th, 2016 - Posted & Written by Laura White