Hands up if you know what a Jingling Johnny is.
Chances are that if you've ever listened to Rend Collective you have certainly heard one, even if you don't know what one is. Also called Pogo Cello, Turkish Crescent, Humstrum, Ugly Stick (yes, that's actually a thing!) as well Stump Fiddle, this distinctive stick-and-tin combo was a mainstay of Skiffle bands for decades. And if you've ever been to a Rend Collective concert, you've no doubt seen frontman Gareth Gilkeson joyfully hammering away at the stage with one. As an instrument, it's an odd assortment of bits of pieces that looks remarkably homemade. Yet, it is capable of eliciting great life and passion by using the very floor as an vital instrument, one that gets feet stamping along with it. The perfect instrument for Rend Collective.
Rend Collective, formerly known as Rend Collective Experiment (I guess the experiment was a success?), hail from Northern Ireland and create homemade music of the most homemade kind. Known for their homely sound that digs through years of collective community and tradition to draw on a rich vein of communal passion, everything about Rend Collective draws more on God-given inventiveness and imagination. You'll find very little in the way of drawn-out synths or overblown guitar effects. Rather, accordions are their arsenal; folk music their fearlessness.
Organic and Homemade: Rend's beginning movements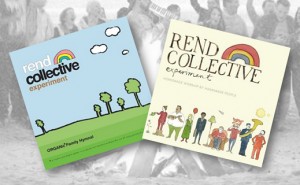 From true humble origins, Rend Collective's first albums were born of people together trying to figure out God, life, and community together. Their first album, Organic Family Hymnal, is what grew out of that atmosphere, grew out of a ministry that sought to hold close prayer, relationship with God and with each other. The very identity of the band was one formed outside the mainstays of Contemporary Christian Music, trying not to sound like anyone other than themselves. This unique spirit carried onto their next album, and album which changed everything but the band themselves.
With a title that is as much a calling card as it is a title, Homemade Worship by Handmade People is a step forward in confidence. From the opening bravura of Praise Like Fireworks, there is palpable excitement and artisanal spirit to the release. Being homemade isn't about being rough around the edges, it's about remaining in touch with who you are, where you come from, and what can be done with whatever it is you have to hand - even if that means breaking out a Jingling Johnny. It's also the album that contained their biggest song to date.
Build Your Kingdom Here was a song that spoke to Churches across the UK. Fuelling thier ambition to share God's news all those around me, I'm certainly not the only person to have noticed how much congregations visibly came to life whenever when those opening lines of the song are sung out on a Sunday morning. A song that encouraged people to really reach out in faith, it breathed life into those who felt stale and unmotivated. And it did it all without huge studio budgets, but rather by tapping into the thudding spirit of community that propels both good faith and good folk music.
To the Beach!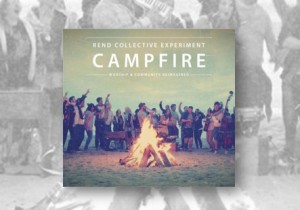 If you haven't gathered already, Rend Collective tend to use the word 'community' in the most traditional sense as possible; the kind that it best suited to gathering around a campfire, a place where for thousands of years people would come together to sing songs, tell stories, and share their lives with each other. It's a timeless openness that is found around the crackling logs of the campfire, and centuries-old intimacy that is as much connected to creation and it is to community. The perfect setting for Rend Collective's music.
Campfire saw the band pack up sticks and head to the beach and worship as the sun sets on the Irish coast. You can hear the fire forever crackle in background as the band retread their past songs (as well as a couple other Christians classics) in new, acoustic arrangements that are filled with ukeleles, banjos, suitcases for drums, clappings hands and the voices of anyone who wanted to join in. The Campfire album put into practice the very idea of community worship, and the potential it has to forge new, meaningful connections with God and with each other.
From Celebration to Christmas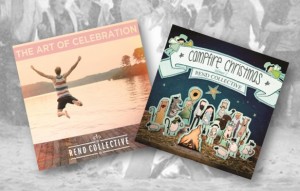 As a word, raucous has a bad rap for the past, well, ever. But if you've ever been to a Rend Collective concert, it's safe to say the group have reclaimed raucous for good. With furniture-rattling sounds coming as much from the stamping feet of the audience as the band themselves, there is a wild spirit of worship at their concerts which is not easily forgotten. But worship is about more than one evening of chaos, it's a lifelong attitude to hone, and grow, and deepen - all of which The Art of Celebration, Rend Collective's fourth album, lifts up high.
There is a light-footedness of The Art of Celebration that shows that there is more to Rend than repurposed instruments and an 'indie-sound'. Tap beneath the fast-paced music and earthy mainstays of (what can now be safely called) Rend Collective's sound, and you will find a rich look at the reasons we have to celebrate. About more that just being hyped up by a Jingling Johnny, songs like Immeasurably More, My Lighthouse and Boldly I Approach all explore why celebration can be the most appropriate response to God's goodness. Gareth Gilkeson describes the release as "...an attempt to reflect something of the irrepressible laughter in the heart of God".
And that spirit of joyfulness carries over into Campfire Christmas (Vol. 1). Approaching with irresistible energy and vigour, the whole album is a blast of seasonal cheer and simple joy. Reigniting several classic Christmas carols with accordions, banjos, shouted refrains of 'Ding Dong!' and truly moving ukulele playing, Campfire Christmas was the perfect way to put into practice the spirit of celebration. Christmas spirit with a worshipful heart and joyous sound.
Family time (and ever more fires)!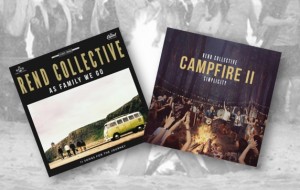 More focused on the importance of roots, both familial and in the Church, Rend Collective's fifth album focused on the most meaningful community of all: family.
As Family We Go saw the group looking back to the basic truths of faith. Songs like Every Giant Will Fall and Joy of the Lord feel like old-fashioned songs rediscovered for a modern audience, based on (and sometimes directly lifted from) verses from the Bible. That doesn't mean they have put aside who they are now. There is still plenty of what made Rend Collective so cherished by people the world over. Driving songs like Free as a Bird bounce along like the very best of their back catalogue.
And then, as if to fully remember who they are, and what it is they love about communal worship, out comes another campfire album. Campfire II: Simplicity follows much the same pattern as the first campfire album. Old-school-ditty opener? Check. High-energy salvo of songs to follow? Check. Yet, even though it may be easy to dismiss the album as box-checking, you would be missing out on oceans of inventiveness as the group draw on sounds from as-far-afield as true-bluegrass country and the New Orleans style version of You Will Never Run (which is definitely a direction I can get on board with).
Good News to come…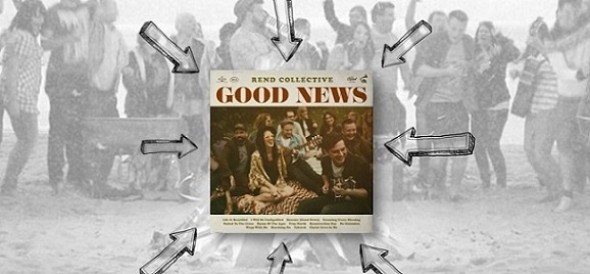 As 2017 draws to a close, any people will look back and see largely bad news for the sheer fact that it was unavoidable. The papers and news reports reached saturation-point with misery, leaving so many dispirited. Yet, there is more to hear than bad news.
Looking towards next year, there is Good News on the horizon in the form of an album that is all about hope, positivity and, you guessed it, Good News. With three tracks already available to listed to online, the album looks to be a beam of light against dark days. Songs like Resurrection Day that are overwhelmingly triumphant and buoyant remind you of all that you have in God.
For me, it's definitely Movements, but what is your favourite Rend Collective song, and why?
Due for release the 19th January, you can pre-order Good News by Rend Collective today, and listen to Resurrection Day, the lastest single form Good News.
December 15th, 2017 - Posted & Written by Aaron Lewendon