The leader of the Coptic Orthodox church, Pope Shenouda III has died, aged 88.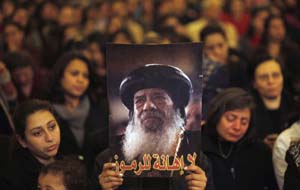 Mourners hold up a picture of Pope Shenouda III, who has died.
Pope Shenouda, who had lead the Coptic church for 40 years, has been greeted with scenes of mass mourning in his native Egypt.
Recent ill health, attributed to the spread of prostate cancer to his heart and lungs, had necessitated a change in schedule for the Orthodox Patriarch, who has passed away at a time of grave difficulty for Egypt's estimated 10 Million Coptic Christians.
Now, as well as mourning a much loved leader, and going through the process of finding a successor, Egyptian Copts must also deal with a growing culture of antagonism from Islamist groups in the country.
However, Muslim leaders have been quick to offer condolences to the Christian community, Sheikh Ahmed el-Tayib, grand imam of Egypt's highest Islamic authority said: "Egypt has lost one of its rare men at a sensitive moment when it most needs the wisest of its wise - their expertise and their purity of minds"
It may take up to three months to appoint a successor for Shenouda, the 117th Pope of Alexandria, and Patriarch of All Africa, who has been at the head of the church since 1971.
The General Bishop of the Coptic Orthodox Church in the United Kingdom His Grace Bishop Angaelos , said Pope Shenouda III would "be remembered by his Church as a dedicated servant of God and of the people, a man who faithfully endured through conflict, opposition, and persecution. His Holiness built upon the foundation laid by our Lord Jesus Christ, enhancing the Church in a variety of ways, encouraging a spirit of unity for all of humanity. May his prayers be with us all, and may he find joy and rest in the Kingdom of our gracious Lord."
Mervyn Thomas, chief Eecutive of Christian Solidarity Worldwide said he was deeply saddened by the news.
He said: "We would like to offer our deepest condolences to the Egyptian Church and people at the loss of a key leader at this significant time in the nation's history.
"Pope Shenouda was a deeply spiritual man who led his Church faithfully for so many years. I was privileged to have an audience with him last September, and was profoundly affected, knowing immediately that I was in the presence of a very special man.
"My prayer is that over the coming days the Coptic Orthodox Church will be led by the Holy Spirit as they seek to appoint a successor to this very wise and Godly man."
The funeral will take place on Tuesday 20 March. A book of condolence will be available at the Coptic Orthodox Church Centre in Hertfordshire next week.
March 18th, 2012 - Posted & Written by Simon Cross