Few people have experienced more transformation than Lazarus. According to Pete Carter, doctor turned church leader and Christian healer, that's only the beginning.
Healing When Healing Seems Impossible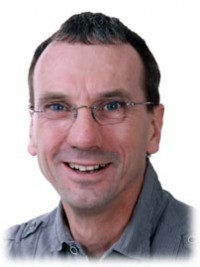 Author Pete Carter is no stranger to transformation. Starting out as a doctor in general practice, he's now head of the NKCC (North Kent Community Church) Healing Centre in Longfield, Kent; combining natural medicine with super-natural Christian healing. Unwrapping Lazarus builds on his evidence of healings when, medically speaking, healing was not possible.
Because he's a trained and qualified doctor, Pete brings a physician's knowledge to understanding disease and suffering. Because of his faith and the Holy Sprit's power, he brings much more. So when he sees a person in need of healing, he can put a name to the need.
In his book he tells how everyone in the isolated Mexican village knew that young Otilio, couldn't walk; but only Pete knew the medical basis for why. When Pete observed a slight movement not typical of muscular paralysis, he knew how to combine prayer with practical assistance.
Leaving The Grave Is Only The Beginning
Pete's accounts of the miraculous healings he witnessed and mediated are emotional. He's no more a detached channel of healing power than he was a mere dispenser of medical treatments. His outbursts are strong and heartrending when God does not immediately respond as he might want. And when God does appear, Pete is quick to attribute praise and glory to the true source of all healing and restoration.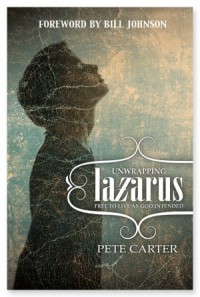 But Pete takes his themes of healing and restoration beyond his personal experience. Just as Lazarus' emergence from the tomb was only beginning of his transformation, so Pete's vision of transformed individuals and a restored world only begins with their physical healing. And that's where Pete sees you and me finding the role that Jesus intended for us.
Lazarus was only fully alive once he'd left the tomb behind and was free of the grave clothes that bound him. Lazarus 'unwrapped' is a restored, liberated individual set free to live as God intended. If you can imagine a world full of men and women loving and trusting the one who brought them back to life, then you've glimpsed the world that Pete Carter and wife Kim are dedicated to bringing about.
Free To Live As God intended
With a foreword by Bill Johnson of Bethel Church, Unwrapping Lazarus is an assurance that miracles do happen and that God is using his followers to show his transformative powers. Pete Carter's book is the start of a cultural shift in which Christians understand the amazing works of God and discover how to actively participate; not only in healing, but in enriching the lives of those brought back to life by his love and power.
February 22nd, 2013 - Posted & Written by Les Ellison