It has almost become a cliché, so powerfully has the idea been entrenched in our minds, but I will use it anyway. Shopping Malls have become our cathedrals, and mammon our God. But is extending Sunday opening during the Olympics a step too far?
Monday 30th April will see a debate in the House of Commons on a bill which will allow large shops to open without time restrictions on Sunday during the Olympic and Paralympic games. The measure is controversial for a number of reasons, but most opponents to the bill are afraid that it will be used as a test case to introduce long term deregulation of Sunday trading laws. While Ministers have denied that is the case, a senior Whitehall official told the Daily Telegraph that the Treasury they "believed the move would provide evidence of the economic benefits of a permanent relaxation of Sunday trading laws."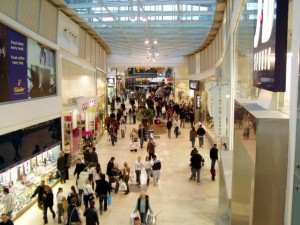 copyright Geograph (creative commons)
Many Christians aren't strict sabbatarians but still see Sunday as an important day of rest, worship and for spending together. Meanwhile many trade unions and shop workers are anxious that workers right to opt out of Sunday work will be eroded by the back door.
Currently the law restricts Sunday trading for large shops defined as having retail floor space larger than 3000 square feet, to between 10am and 6pm, and only for 6 hours consecutively during that time. But the government wants shops to be able to open around the clock to show the world that the UK is "open for business" during the Olympics. They argue that the economy will be boosted and that shopping is a good pastime which as a society we should embrace. They also say there are security concerns. In order to allow visitors to Olympic events the room to disperse into shopping centres, they need to be open late.
But there is widespread unease about the proposal, both in the short and long run. Opposition comes from an unlikely cohort banding together in cobelligerent lobbying of Government and MPs. Trade unions representing shop workers, small shop keeps, Christians and other people of faith and none have various stakes in keeping Sunday special.
Beginnings of opposition
The Keep Sunday Special campaign started in the 80s when Thatcher's government was defeated in its attempt to change the 1950s shops act.
In 1994 the Sunday trading act was passed letting most shops open when ever they want to but restricting Sunday trading for larger shops and retail parks. Supermarkets tend to open from between 10am and 4pm, while retail parks and larger high street shops open from noon till 6pm. One of the reasons why the bill passed was that union's were given special concessions which gave workers the opportunity to opt out of Sunday working. Eighteen years on and there have been some attempts to deregulate and change the current compromise, while shop workers themselves often report that they feel indirect coercion to work on Sunday, even if they don't want to.
Why the Olympics?
Most recently in 2011 two government consultation exercises asked respondents what they thought of scraping Sunday trading regulations for large shops. In both instances it seems that a loose coalition of folk opposing the plans gave the Government enough pause to press ahead. However, during the March budget George Osborne, the Chancellor of the Exchequer, announced that the Government would introduce a bill which would temporary cancel regulations.
Because of the short time scale between the budget and when the Olympics start, they have had to use the fast track mechanism to push the bill through the Lords and Commons without much debate or scrutiny.
But why the opposition to Sunday trading
There are five reasons put forward by the Keep Sunday Special campaign worth considering on the backdrop of the short term proposal. These are to protect relationships; preserve community; save local business; respecting faith; and rest. Punctuating a week with a shared day is important for relationships, which are important to community.
Local businesses have been loosing out to bigger business, and its worth considering where a community might meet on Saturday, if the smaller high street shops disappear completely. There are also plenty of people who would like to go to church with their family, even if they do have to work later on in the day.
If the opening hours on Sunday would be scraped completely, many would loose out. Finally, everybody needs a day of rest, otherwise we burn out, but there is something special about having a day of rest which is shared by the vast majority of the community. No deliveries, no heavy traffic and plenty of fun on the playing fields.
What does business say?
While there are some businesses who very much welcome the proposals, there ore others who have mixed feelings about the proposals. The chairman of Sainsbury's has said that he opposes the proposals, while two former chairmen of Marks and Spencer's, Sir Stuart Rose said: "The fact of the matter is you simply spread the same amount of business over a longer period, but with more operating costs. It's a zero-sum game."
How the debate on the Sunday trading and Olympics bill ends is anybodies guess. However, it should be clear to the government by now that any proposal put forward to get rid of the happy media that we have now be opposed by an unlikely coalition seeking to Keep Sunday Special.
Lauri Moyle is Spokesperson for the Keeping Sunday Special campaign and is working with Christian and other faith groups, Trade Unionists, small business owners, and even some "old style" Conservatives to get the Government to drop its plans to extend Sunday trading hours over the Olympics.
April 30th, 2012 - Posted & Written by The Editor