As the Irish rugby team prepare to take to the field for this weekend's match against Italy, one player will be taking time out to meditate on scripture - before he ties on his boots.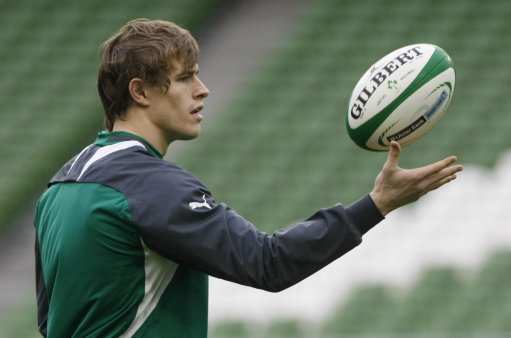 The macho world of Rugby is a tough place to be a Christian man, with its booze, drinking games, women, swearing and dirty jokes. But it is in this environment that Ulster and Ireland Centre cum Winger Andrew Trimble lives and works.
The 15stone 6lbs, 6 foot 2 inch Northern Irishman known for his strong running and tough tackling, made his provincial debut in 2005 against Cardiff Blues, at the tender age of 19.
A meteoric rise saw him make his International debut only eight games later in an autumn International against Australia at Landsdowne road. The following week a brace of tries helped Ireland beat Romania; he was then included in Ireland's 2006 Six Nations squad, which went on to win the Triple crown.
In 2007 he took part in Ireland's disappointing World Cup campaign- where despite being heavily tipped to go far in the tournament, they were dumped out of the tournament at the group stages.
A mainstay of Ireland's 2008 Six Nations team, a loss of form saw him miss out on their 2009 Grand Slam triumph; but the 27 year-old fought his way back into the set-up later on that year and has been an ever-present since- playing in last year's World Cup, which saw Declan Murphy's side knocked out at the quarter final stages by Wales.
Trimble, who started playing Mini-Rugby as a child in his native town of Coleraine, has been in a rich vein of form this season: helping Ulster to a quarter final Heineken Cup spot in an excellent campaign which has seen the Ulstermen beat both crack French side Clermont Auvergene and English giants Leicester at home- Trimble bagging two tries against the latter. Having reclaimed a starting berth in the Irish team, life is sweet for the down-to-earth star who quit his physics degree at Queens University after a year to study Theology at Belfast Bible College.
But though his Rugby achievements are extremely important to him, being a witness to his team mates supersedes this as he shared in an interview with 'LifeTimes Magazine': "Rugby for me is my Mission field and this is why Rugby is so precious to me. God has put me in an environment where there aren't too many Christians, so it's a special privilege for me to be a witness there.
"A responsibility comes with that, though. God hasn't given me this talent for people to think: 'Wow, he's a great player', but he's given me this gift of Rugby so that I can share Jesus with these people".
Raised in a Christian family, he didn't make a real commitment to God until his second year in Sixth Form, whilst attending the School's Christian Union, drawn to Christ by the lives of his fellow students.
"I realized the guys around me had something about them that made them special. Something I didn't have. They really inspired me particularly by the way they had 'life in all its fullness'. I know that that was something that God promised his followers, and yet it was something I didn't have."
Trimble has a completely different way of preparing for a match to your average Rugby player: no swearing, screaming or head banging, but rather some quiet meditation on his favourite scripture.
"All the swearing and fierce preparation you see on Rugby videos doesn't do it for me. Whether or not you are a Christian, if you are into sport and competitive you're always going to have a fierce edge.
"But there is a fine between gamesmanship and sportsmanship which requires you to tread carefully and that's why for me personally it's really important that I get that right.
"As a Christian, the best preparation before a game for me is to sit quietly, by myself and read through Psalm 84. Part of that Psalm says, 'Better is one day in your courts than a thousand elsewhere, I would rather be a doorkeeper in the house of my God than dwell in the tents of the wicked'. It's such a blessing for me to play for Ulster, and for Ireland, and I do love it, but I would far rather be in heaven, and that verse reminds me of the fact."
But sharing his faith in the tough world of Professional Rugby hasn't been easy for him. Although his team mates respect his unusual way of preparing for matches, a few of his team mates ridicule his faith as "unrealistic".
Being Christ-like in such an un-Christ like environment is also a big challenge for him, but Trimble tries to keep a long term view of his testimony.
"It can be so appealing not to be Christ-like, but that's just the short-term. I have to live for something that will last, not something temporary".
Inspiring words! And despite the difficulties he faces, God gives him lots of opportunities to share the Good news.
"There are opportunities to speak of Christ though. When you're playing away, and sharing a room with a team mate it is amazing what you can talk about at night, when the light goes off! Sooner or later it comes round to the topic of Christianity and God. You get to know the guys when you're away and there are some super chances to talk about God".
Trimble, a possible Lions tourist next year knows that the talent he has been given is for the glory of his saviour not for his own glory.
"At the end of the day, God has kindly given me a great talent; but I cannot boast in it, but it is for me to boast in Christ."
Ireland against Italy kicks off on Saturday 25th February at 13:30 in the Aviva Stadium, Dublin. The referee is Craig Joubert.
February 24th, 2012 - Posted & Written by Hefin Rhys Jones