Introducing his concept of RetroChristianity, author Michael Svigel opens a new and controversial dialogue with the neglected beliefs and practices of the Christianity of the past.
Building a bridge between modernity and Christian orthodoxy, Professor Svigel aims to rebuild the present and future of evangelicalism in the Church on six foundation stones of orthodoxy, order, ordinances, evangelism, edification, and exaltation.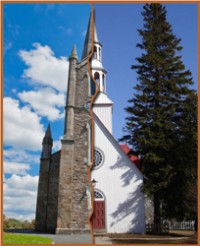 New Church, Old Church or Both?
A return to Christian Orthodoxy needn't mean slipping back into the past. (picture from www.dts.edu)
Orthodox Christianity is not Fundamentalism
Professor Svigel definies orthodoxy as: "The correct view on the central truths of the Christian faith and a proper practice of Christian works." In RetroChristianity, he asks why this foundational faith is losing appeal among the younger generation and selling out, as he sees it, to popular culture.
"Orthodoxy," claims Michael Svigel, "is not bestowed on the next generation if the Bible is not read and explained." This is no call to fundamentalism, rather it's his reasoned plea for the Church to return to the teachings and practices crucial to what Christians have believed and preached since ancient times.
His answer is a call for a return to the orthodox Christianity of the past; to RetroChristianity, based on biblically sound theology, effective church structures and largely traditional worship ordinance and practices.
Effective and Biblically Sound Church Models
In assessing the structural models found in churches today, he rates the pulpit/altar-centred model as the most effective; proclaiming the Word from the pulpit, and consecrating the worshipper at the altar. "Services," he says, "should centre on Christ's person and work within the Trinitarian creation and redemption narrative."
Svigel grades current models of church organisation according to his own scale. The "ideal" ministry is the one that most authentically and effectively maintains a pulpit/altar-centred worship. At the other end, are those where an authentic, intimate, and effective ministry of the pulpit and altar has become impossible.
His lowest ratings go to self-styled churches that encourage remote (radio, television or online-only) experiences, with no real pastoral or community presence. For churches at the bottom of this scale, he draws a direct connection to their neglect or abandonment of essential marks and works of a church.
Returning to Sound Theological Doctrine
Assistant professor of Theological Studies at Dallas Theological Seminary, Svigel's ideal churches are small, intimate communities with a trained and qualified pastoral presence. In his view, orthodoxy and order must combine with worship that includes the reading of scripture, instructional music, confession, prayers, offerings, the communion meal and the leader's sermon.
RetroChristianity calls for a return to the Church's historical and theological roots, warning that history is littered with revival movements that failed to retrieve these forgotten aspects of orthodoxy.
Retro Christianity is no longer available from Eden.co.uk
March 27th, 2013 - Posted & Written by Aaron Lewendon