The new Dean of St Paul's Cathedral will be Dr David Ison, the current Dean of Bradford, it has been announced.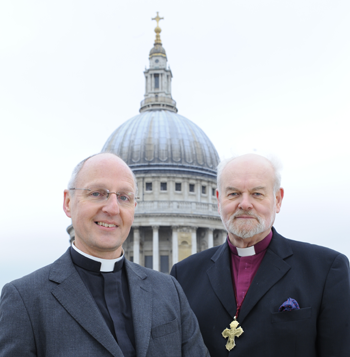 The Very Reverend Dr Ison, 57, an enthusiast for interfaith relations, will take up the position after his installation in May.
He succeeds Graeme Knowles as Dean, who resigned at the end of October 2011 in the midst of the furore surrounding the Occupy protestors, who were finally removed from the grounds of the Cathedral at the end of February.
Dr Ison, a married grandfather who loves Scuba diving and driving a kit car, said that the issues the protestors raised cannot be ignored.
He said: "St Paul's position in London life, and within the Church, is unique.
"Its status has been brought even more sharply into focus following the events of the past few months, with the appearance of the Occupy camp.
"The protestors may now have moved on but a number of the issues they brought to the fore cannot be ignored and the Cathedral has an important part to play in ensuring they are amplified and addressed.
"In my role as Dean, I can already see there will be much to do in partnership with colleagues in the Diocese of London, in other Christian churches, other dioceses and in different faith traditions, with partners in civic and business life, in private, public and voluntary sectors, with rich and poor, alternative and establishment, and with the organised and marginalised alike.
"The Cathedral is crucially located at the heart of an interconnected London. I especially look forward to getting to know the staff and community of St Paul's, and exploring with them the particular ways in which the Cathedral can serve the whole of the capital."
A former Lecturer at the Church Army Training College in Blackheath, Dr Ison worked in the Diocese of Coventry, and Exeter Cathedral, before moving to Bradford.
His wife Hilary, who is also an ordained priest, works in London for the Church of England's Ministry Division.
The Bishop of London, Richard Chartres, said: "Rarely before has St Paul's role at the centre of both the Church in London, and at the heart of this great, world city, been more keenly felt than now, in the wake of the Occupy protest.
"With that dual responsibility comes an ongoing need and opportunity for the Cathedral to provide an important and relevant outlet for prayer, reflection and debate, accessible to all Londoners and to those from around the globe, who flock to this international heritage site.
"David brings with him the ideal credentials to take on the challenge and his experience of cathedral life in an urban centre will prove invaluable."



March 6th, 2012 - Posted & Written by Simon Cross