Taking the trouble to shake hands with every journalist in the room before taking his seat at the Big Church Day Out press conference, Matt Redman was not only insightful but polite, and quite amusing too!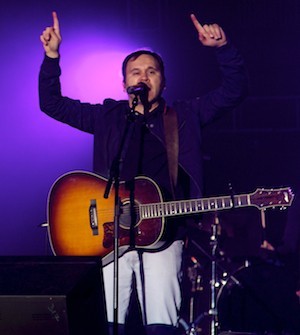 Matt Redman
(c) Mikey Oldfield
Fresh from the release of 27 Million – a song with hip hop band LZ7, Matt began by talking about the chart success of the song that helped raise awareness about human trafficking.
"From the beginning it felt like God's favour was on it. The song got played in the White House at a senior staff meeting there. Obviously it's just a song. We hope it's done some good to raise awareness, especially among young people. Even now someone will write in and say 'we did a gym class and used the song and I told people why' or 'I did an assembly and we did the song as a centerpiece for that.'"
10,000 Reasons
Going on to talk about popular new song, 10,000 Reasons (from his album of the same name) Matt admits his style has been partly influenced by the "Mumford and Sons phenomenon". The singer has been privileged to see the church in action in many different cultures and it's clear he's learned a lot.
"This week I've sat in seven, well actually eight amazing talks, but one of them was in Portugese so I had no idea what the guy was going on about," he laughs.
There are clearly pros and cons to a hectic travelling and touring schedule. "I've got five kids so if I get eight hours on a plane I'm the most unevangelistic person. I'm in my own little world," he admits.
Matt's life isn't as glamerous as some would assume. "You wouldn't believe the amount of times I've had the most amazing worship encounter then two hours later I'm putting the bins out at home or changing nappies," he says. But far from that comment being a complaint, Matt says such things are there to keep him grounded and keep his heart in the right place.
Experiencing different churches
He may have done a 41 date tour across America with Casting Crowns two years ago and spent much of May seeing much of Europe, but for the most part Matt has stayed in Brighton for much of the past two years. Helping to build HTB church plant St Peter's. He's enjoying the "new adventure".
In America gathering the crowd isn't your biggest challenge but in England it really is
I ask why Matt has been involved with many different denominations and organisations in the UK and abroad.
"They keep kicking us out," he jokes.
Passionate about church planting, the singer was involved in starting Soul Survivor Watford, The Point in Mid Sussex and Atlanta's Passion City Church. What has he learned?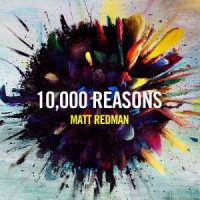 "In America gathering the crowd isn't your biggest challenge but in England it really is. We have to break through a mentality here because church is just not on people's radar. St Peters is an interesting one to me because we're in a huge cathedral-like building right in the centre of the city. You have to go past it to get in and out of the city yet there are people who go past it every day and would never think about going inside it. It's just where people are at spiritually, it's not on their radar anymore, not even at Christmas or Easter."
Growing up in the Anglican church, Matt had a very positive experience. "A lot of people will read the newspaper and think there's nothing but scandal and demise, but I saw nothing but growth and renewal in it so I've always had a heart for that. It's nice returning to St Peters and be a part of 'rebuilding the ancient ruins', if you like. We were in Newfrontiers for a while that was a brilliant adventure. They have a great mix of local and global mindset."
The adventure of church planting
Continually optimistic and thankful for the life he leads (few people can say they've had their songs played in space), Matt is full of encouraging words. "That wasn't aliens, by the way. It was astronauts", he interrupts as the room laughs, before turning serious again.
"One thing I love is wherever you present the gospel, it works. I've seen it presented in small churches, big churches, all sorts of different styles and people groups but the gospel bears fruit when you put it before people. It's been a great learning adventure definitely."
Wherever you present the gospel, it works
"We've loved the church planting adventure over the years. 12 people in a room and you're looking around thinking 'how's this ever going to happen?' But it does. It's a great faith building thing."
Matt is back! But in a way, it's like he starting all over again. After a stint in America, he's returned to his roots, both in the UK and Anglicanism as St Peter's Church march forward in Brighton.
August 20th, 2012 - Posted & Written by Sam Hailes