Brenton Brown's first ever live solo album was recorded infront of 4,000 high school students in Dayton, Ohio.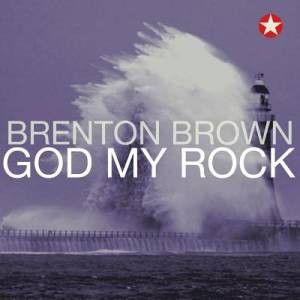 The writer of Everlasting God and Praise is Rising recorded God My Rock at the end of a monumental two year long tour.
The album opens with the same two songs that began Brenton's last studio album Our God Is Near: Our God Is Mercy and Joyful.
There are no drastic changes to the arrangement of these songs, but they do sound even more powerful and punchy than their studio counterparts.
Title track God My Rock is the listener's first chance to hear something new from the worship leader. His songwriting partnership with Paul Baloche has previously resulted in some great tunes including Glorious and Praise is Rising. God My Rock is more repetitive than those songs, but the chorus contains all the necessary features to make it stand out.
The 14 track recording has a good mixture of old and new songs. There's even a cover of I Saw The Light (a bluegrass hymn that David Crowder Band helped make popular).
Jesus Take All Of Me is a stand out new song inspired by events at a Billy Graham Evangelistic Association event.
"I will never forget the lady who ran to the front even before Will had finished speaking, asking, 'Is this real? Is this happening? Can I get saved right now?'" remembers Brenton.
"It was so moving and unforgettable. I was so grateful when the lines ''Jesus take all of me, I run to You, I run to You'' came to me, in a small way capturing the specialness of those nights."
The new version of Praise is Rising is much improved with fresh energy while Like The Angels sees the singer completely re-imagine his studio arrangement.
God My Rock ends with a rousing rendition of the singer's most popular song: Everlasting God. Tagging John Mark Macmillan's smash hit How He Loves onto the end is a nice touch too.
All in all this is a solid effort from the popular worship leader. He may have played it relatively safe with song choice and arrangements, but Brenton's first live release is mature and grand. Fans of the songwriter's popular worship songs will love this fresh new recording.
Rating: 7 out of 10
October 3rd, 2012 - Posted & Written by Sam Hailes