Dutch singer, songwriter, pastor and worship leader talks about crossing the divides of language and culture and his first UK album.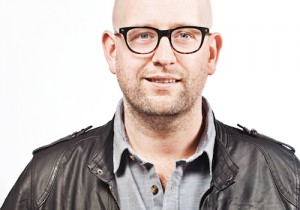 Running Into Love by Case Crayenoord includes songs that have been co-written with well known British figures such as Tim Hughes, Martin Smith and Ben Cantleon.
Back home in the Netherlands, Case became well known in the Church after his first album This Is My Cry surpassed everyone's expectations in 2003.
Looking back on the live album, Case explains what happened:
"My first songs were in Dutch then I got invited to lead worship at a big festival. We recorded just for the fun of it. It was in a big tent and we had worship gatherings with about 10,000 people. Somebody said, 'Lets make it into an album.' We said, 'Lets do it in English because a lot of people already know them in English like Light of the World (Here I am to Worship)'.
"There were two songs on the album that I wrote. We released it and suddenly it was number one for months. Everyone loved the atmosphere and the live spirit of praise. The way we arranged it and the way I led it was perhaps new to people, I don't know. The rest is history!"
Now a pastor, Case sees both his preaching and his musical work as ministry.
"I found out that I had this passion for preaching as well; so that's a very big part of my ministry in the Netherlands. I travel as a speaker and I always have a strong feeling about the local church being the hope of the world."
The Church in the Netherlands
Case grew up in what he describes as the Netherlands' version of America's "Bible Belt". But Christianity is not thriving in Holland. Case tells me 60,000 people are leaving the Church every year.
"It's a huge number in our country which is not that big. Less and less people believe Jesus is of any value in their life, which is worrying. On the other hand, the Church and even the traditional Church is looking for new ways to express the gospel to our society. We see more and more churches looking for more of the spirit. We see Alpha courses being taught in traditional churches. We see worship teams coming alive and that's great to see."
In the 1st century there was no New Testament, just people like Paul encouraging other Christians with poems.
Ever the optimist, Case takes a positive outlook: "Perhaps the Church is getting smaller but the smaller part is getting more alive, being aware of their mission in our society. When I was young there was no desire to share the gospel with society or even help the poor because everyone was in church anyway. Now the Church is getting smaller but more aware of the fact we're called to be the light of the world and to step up and talk about issues like justice and loving others outside of the Church. It's exciting to see."
Saviour's Song
Case first met Tim Hughes when they were touring together in the Netherlands. Having also met Noel Richards and Graham Kendrick, Case began to co-write. Kingsway quickly discovered that the songs Case had been involved in penning were becoming favourites in the UK.
It wasn't long before Tim and Case were writing Saviour's Song together.
"I was enthusiastic about Philippians 2 where Paul is writing in his letter and he's quoting a poem in theology we call 'Carmen Christi'. I was fascinated that in the 1st century there was no New Testament, just people like Paul encouraging other Christians with poems."
"Tim had this great idea for a chorus and that was the beginning of Saviour's Song. Can we write a song that is so inspiring, people respond to it with praise? In the end, Martin Smith came into the process as well and wrote a bridge. I had the scripture idea, Tim brought the chorus and in the process of recording it, Martin stepped in. That's why I love working together; because the song gets better and better and better if you allow people to critique it. We need to raise the bar in that area."
Also included on the new album is Ruler Over All Creation. Originally written in Dutch and sung all over the Netherlands, it has been translated into English for the album. Case is excited to see a song translated this way around as he says many songs are translated from English to Dutch. "Can we write a song in Dutch from our culture and church and translate it into English and see what happens? So I'm excited to see what God is going to do with that song."
What makes a worship song 'powerful'?
With many songs, including Case's, being referred to as "powerful", I ask him what gives a song such a quality?
"As a worship leader, you write for the Church," Case begins. "Obviously there are some worship songs that are more for stadiums - like not every Delirious song is a Sunday morning worship song. When I think about singing songs on a Sunday morning in my church, a lot of worshippers aren't musical. A melody should be very obvious. Lyrically it needs to say something with depth. I love it when it is Christ centred. It's not just 'hallelujah' 10,000 times."
"It's got to be played by a local praise combo around the corner. I was a huge fan of Tim Hughes because he wrote Here I Am To Worship which is a worldwide hit but because it's simple but with depth. There's another thing you can't explain. Maybe that's what you call anointing. Or is it God's choice to make a song successful? But some songs have something special and it works. I can't explain that."
Case's transition to marketing his music for a British audience has even included a name change (he's known as Kees Krayenoord in Holland) to make it easier for people to pronounce his name! I finish by asking the worship leader why people should buy Running Into Love.
Some songs have something special and it works. I can't explain that
"I'm almost certain it will be their first album in their computer or car that is by a Dutch singer-songwriter. That's the reason! Wouldn't that be something?"
Case or Kees, Craynoord or Krayenoord, he has a keen appreciation of what needs to change and what stays the same in communicating the gospel between cultures and languages. With his easy style, direct honesty and musical talent the Dutch musician and pastor is set to make as big an impression on the UK as in Holland.
August 17th, 2012 - Posted & Written by Sam Hailes