Everybody knows the parable of The Good Samaritan. It's the story about loving your neighbour, about citizenship, about seeing - before colour or creed - a fellow man. So well known is this story, that, like a word repeated over and over again, it's easy for the central message to become lost or dulled along the way.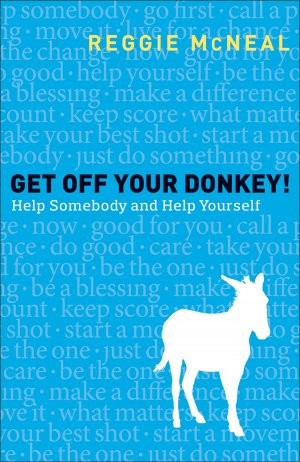 Dr Reggie McNeal's recently released 'Get Off Your Donkey!' reminding us that this parable is far more than a heart-warming sentiment. It's a call to action.
McNeal courageously points to an institutionalised religion that speaks of doing God's will from the comfort and warmth of the church hall, and denounces it. God's real work is enacted, McNeal says, not in the words that echo around the room, but in schools, streets, homes and communities. The effect he wants to have on his readers is simple - "to get them out of the church business and into the people business".

As important as New Readers are, we're overloaded in the media with epidemics, tragedies and horror stories, to the point where we're desensitised to human plight in all but the most tragic or newsworthy of cases. McNeal talks refreshingly about the need to look beyond the TV screen and over the top of the newspaper, to the world on your doorstep that is also in need of your help. For example, we're quick to complain about the crime on our streets, but less quick to think about, let alone act upon, the illiteracy, starvation, and desperation that may underpin this.

McNeal is, himself, a church leader, a well respected and keenly sought-after public speaker and motivator. If there's a hierarchy of known Christian preachers in the American South West, he's surely somewhere near the top. It would be easy for McNeal to preach to us from on high about how we should help our fellow man, but this book is something else. It reads more like a practical, common-sense guide that can be picked up by anyone. This is a book for Churchgoers, for stay-at-homers, for non-Christians. This is a book for anyone who'd count themselves as part of humanity and who wants to re-discover the meaning of this precious word. It's a punchy and inspiring read, loaded with anecdotes to entertain and encourage you to re-evaluate the world around you and your role within it. From the opening invitation to replace the word 'donkey' in the title with any other anatomically inspired synonym that springs to mind, we're whisked with amusing and frank narration into action.

Chapters are interspersed with moments of reflection, with a couple of lines to allow you to jot down your thoughts. This is an essential tool for conveying McNeal's message, transforming you from a passive reader to an active thinker and, therefore, a do-er. He'll teach you how to identify your strengths, and your community's needs, equipping you with the confidence, vision and passion to make 'making a difference' a part of your daily life.

Sit back, read and re-learn what it is to be a Good Samaritan in the 21st Century, then "Go and do likewise."
Written by: Heather Owen, Eden.co.uk's Customer Service Team
May 26th, 2013 - Posted & Written by The Editor