International Women's Day is a chance to celebrate the achievements of women past and present. Choices and opportunities for women are increasing all the time. In many places a feeling of equality appears to have been reached. But when you look closely, it's hard not to agree with George Orwell's observation, "some are more equal than others."
"…some are more equal than others." - George Orwell (Animal Farm)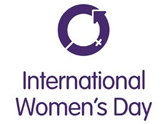 International Women's Day
Just the acknowledgement of the event; International Women's 'Day', is proof that we continue to live in a world where the objectification and degradation of girls from birth through to adulthood is a blinding reality for millions every day.
But just as this day is proof of the failings of society, it is also proof of the victories - of the strength, character and determination of women around the globe. International Women's Day is a day to honour their courage, proclaim their success and stand beside them as they fight on.
Today is an ideal opportunity to find out more about some of the great Christian women that live, or have lived, Christ reflecting lives. Lives spent loving the broken, getting their hands well and truly dirty for Jesus, seeking his will and praying for change everyday.
Gladys Aylward – The Little Woman
The story of 'The Little Woman' was a given to me as a Sunday School prize. From that one short book I learned so much truth that has stayed with me and still influences the way that I behave and think.
Jackie Pulinger – Chasing The Dragon
Jackie's achievements are widely documented and her story (Chasing the Dragon) is inspiring on so many levels. I found myself re-reading this book just to take in the story in its entirety.
Christine Caine - Unashamed
Christine has used the painful truth of her own past to ignite a passion for justice for women whose freedom has been stolen from them. Her work and heart for trafficked girls across the globe continues to make a real difference in lives everyday. In Unashamed Christine encourages other women to do the same.
Esther – Hadassah by Tommy Tenny
One of my favourite biblical women, Esther saves her entire nation and demonstrates so many amazing godly characteristics. I love the Tommy Tenney novel Hadassah based on the life of Esther. She really came to life for me as I read Tommy's interpretation of her story and making me see her with fresh eyes.
These are just a few examples of the many amazing women of faith and their stories. Take a moment, in this week of International Women's Day, to allow their stories to inspire and ignite something in you - every day.
March 8th, 2012 - Posted & Written by Jo Pountney