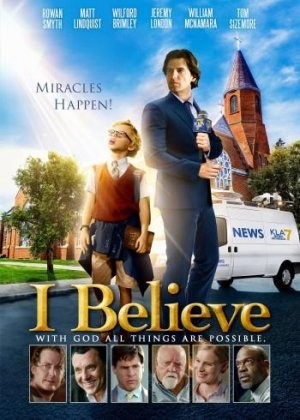 I Believe is a wonderful, inspiring and at times a very gripping film that encourages faith in Jesus.
The film follows Brian, a comic reading 9 year old who is growing up in an atheist household. He has an encounter with God, an experience that sends him on a quest to find out more about what Christians believe, who Jesus is and about the miracles he performed. Brian faces heavy opposition from everyone around him, especially from Simon, his news presenter and atheist father. Exploring a local church, Brian makes fiends with the pastor an a wounded marine. Brian's child like and innocent faith brings about manifestations of God's extraordinary power, quickly becoming breaking news and sparks a hunt to find this boy.
The story is very inspiring and gripping with many unexpected twists, that turns this into a very entertaining film. There are times when the film's low budget is noticed but this is overshadowed by the topic and the storyline.
Brian grows up without knowledge of Jesus, in a household that is very atheist, it is only when a topic at school prompts him to look into Christianity that he becomes aware of Jesus. In this day and age, how many people are like Brian? How many people are growing up without knowledge of Jesus, searching for something more? It is important to realise that many are lost and don't have any knowledge of Jesus, so what are we going to do about it?
The film doesn't just throw up those questions but also other important questions that are reverent to our faith and that is do you believe in miracles? Do you believe that God still performs them? This film will encourage you to believe in miracles and to pray for others, to believe, to trust and to gain a child like faith. This will also work great as a discussion starter for those who have questions about miracles.
Overall I Believe is a great family friendly film that will inspire, remind and encourage us that miracles can happen and that with God all things are possible.

I Believe is available to buy now.
This review originally appeared on The Christian Film Review
June 8th, 2018 - Posted & Written by The Editor