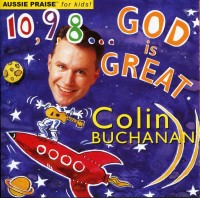 Though some of you may never have heard of Australia's biggest children's singer-songwriter, Colin Buchanan is fast becoming one of the most popular in his field.

With over 240,000 units sold of both his 11 albums and accompanying DVDs you will be sure to be singing along to some of Colin's most popular songs in the coming months.
Born in Dublin, Ireland in 1964 – his family migrated to Australia in 1970 where he has lived ever since.

Colin's career wasn't always so defined, after marrying his wife at 22 he went to live in a Christian community in the Australian outback. He trained as a primary school teacher, which makes a lot of sense when you hear his music!

Once he discovered his gift of song-writing it wasn't long before Colin was picked up and went on to created his first album in1996: 'Aussie Praise for Kids'. But it hasn't always been just the music as Colin is also the face of children's TV in Australia and has appeared regularly over the last 15 years including a 6 year stint on the Disney Channel's Playhouse.

At the heart of Colin's music for children are the strong gospel roots of the lyrics and messages behind the catchy tunes and fun-filled actions. One of the main criticisms of Christian music for children is the cheese factor, the often empty lyrics that may be carried by a can't-get-it-out-of-your-head melody, if you're even more unlucky!

With Colin it's different – though you may be thinking it's not possible to get the word 'justification' into a children's song you would be wrong. Colin's ability to teach children even the most complex of theology through his songs is a work of wonder. Interweaving lyrics of Biblical sustenance coupled with tunes you can't help tapping your feet along to make Colin's music a real treat.

One of the impressive things that Colin has managed to master through his music is connecting with all ages. Though his music is primarily for children the theology and messages in it ring true for everyone.
Colin has toured in the UK several times so he may be familiar to you or even a favourite of your children's and yes you know all the words to '10,9,8 God is Great' or the superhero actions to 'Super Saviour'. All I can say is grab a copy of one his many albums and see for yourself. With so much music attempting to grab the attention of your children, why not fill their hearts and minds with faith building lyrics that will start a strong faith-filled foundation built on the truths of God's Word.


Quick Guide to Fun Facts about Colin Buchanan
• Colin has also authored several books including: Super Saviour; Practise Being Godly and Remember the Lord
• He is host on one of Quantas in-flight radio channels
• Father of 4 children Elliot 17, Laura 15, Emily 13 and Riley 11
• Colin taught himself to play the guitar at the age of 14 and started writing songs at 16
February 21st, 2013 - Posted & Written by Anna Hockley