'Amazing Grace' is one of the most moving and enduring of Christian hymns, and Philip Yancey's 'What's so Amazing About Grace?' is one of the most influential books in recent Christian literature. Why is that? And what's new in the exploration and understanding of Christianity's most defining doctrine?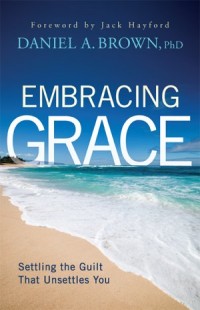 Sometimes, even the most 'experienced' Christians forget just how amazing grace is. Many of us still waste this gift of unlimited love, forgiveness and mercy by imposing conditions and patterns of behaviour on ourselves and on others. So here's a few of the latest books helping you understand it, explain it to others, and fathom just how amazing is this gift that requires absolutely nothing in return.
Embracing Grace - Let Guilt Go
If you need proof that many Christians still can't accept that God's grace is a gift, and you don't want to be one of them, Daniel A. Brown's biblically rich and readable 'Embracing Grace', gives you the tools to overcome "low grade guilt" and rediscover - or discover for the first time - the all-forgiving grace promised through Jesus' death and resurrection.
Even More Amazing? - Grace for the Moment
Max Lucado is still the classic best loved guide to grace for the new to faith and well established believers. Now his life changing 'Grace For The Moment' has been repackaged into several editions including a beautiful Women's Edition and a delightful Kids Edition.
This bestselling series includes excerpts from Max's numerous bestsellers as well as Scriptures verse to match each day's reading.
Giving Yourself Up! - Become a Victim of Grace
Why a victim? Because victims have no control – they can do nothing except give themselves over to what happens. Using the example of her own submission to life saving surgery, in 'Victim of Grace', Robin Jones Gunn explains how, by giving yourself over totally to God, you allow Him to give you every good gift he has in store for you.
Growing in Grace for Growing Teens
Young lives risk falling to the pressures and disappointments of the world. In 'Wild Grace', Max Lucado encourages teens to look closely at what can shape their futures from the inside out, explaining that: "God's grace has a drenching about it; a wildness about it, a white-water, riptide, turn-you-upside-down-ness about it. Grace comes after you."
The Evidence and the Experience of Grace
In 'The Case for Grace', Lee Strobel uses stories from the lives of everyday people and from his own journey to faith as evidence of what Grace can do if only we would give in and let it happen. His investigative story-telling shows how God's grace is only the first of the good gifts that God has for you.
Live Grace, Share Grace, Teach Grace
No other faith or philosophy is built on something even its followers admit they don't deserve; something that requires nothing from its adherents beyond acceptance and given regardless of merit or worthiness. That's got to be news worth sharing.
The new 'Grace Course DVD Based Study' equips you with 6 life transforming sessions for individuals, small groups and whole church teaching.
March 17th, 2013 - Posted & Written by Aaron Lewendon