Last weekend, I and a few friends were discussing how we each did, or did not, look our own age. Someone then asked where we were when the news of Princess Diana's death reached us. The vast majority had no idea. Pinpointing one day in a whole childhood only brings to the surface vague impressions of seeing on a TV screen, or overhearing parents discussing, that someone important had died. Near-every discussion of a national, or international, tragedy is prefaced with the questions 'Where were you when...?'. Some people dismiss this as vanity. That we are unable to conceive of any significant moment that doesn't include ourselves. But really, it's that we are connection-seeking people. We feel loss not by stepping away from another's pain, but by stepping into it.
For Grenfell, I was at this very desk from which I am currently writing when I heard the news. For you it may have been in bed being woken up by a phone alert, or on the television as you pour a morning brew. For others closer to the fire, it may have been at the very moment you opened your curtains.
Your story of where you first heard the news that Grenfell Tower in London was on fire anchors you to it. It's your way into it.
For Gaby Doherty, the story of Grenfell Tower is closer to home than most. Living just 200 meters from the tower block, Gaby saw closer than most the human cost wrought on the North Kensington community. Before the sun rose on the 14th of June 2017, Grenfell Tower was ablaze for miles to see. Gaby and her husband dashed out to help and in doing so encountered stories of people going above and beyond to save, provide, and care for the families affected by the blaze.
Every tragedy has two faces: the story and the people. Grenfell Hope tells of the people affected by the national tragedy, and how a community came together from the ashes of deadly indifference. Knitted together by Gaby Doherty's own deep connection to those around the tower block, Grenfell Hope is a patchwork of compassion. Mixing the voices of survivors and helpers.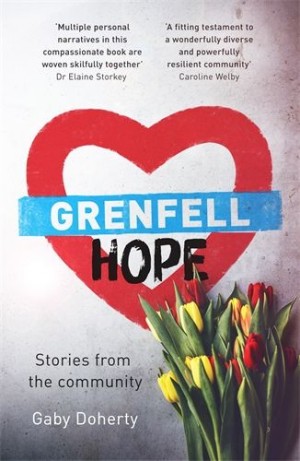 It tells of people from every faith, background, class and culture offering support for those affected. Muslim communities, mid-Ramadan, pouring all their energies into providing shelter; various parishes co-ordinating relief and supplies efforts to reach as many as possible; even people living on the streets offering the little they have to devastated families. The humanity in these stories shows the hope that is at the heart of the community.
Grenfell Hope is a deeply touching book. In it there is tremendous pain; a pain I cannot fully understand, nor would I ever want to. Yet, the artfully collected voices of people who lived in the tower block, as well as in the shadow of it, show something more than pain, though. Something much more surprising.
Hope.
Hope that was planted in a community.
Hope that sprouted from the donations of food and clothes and time given by people far and wide.
Hope that grew along the continued efforts of people offering holidays for families who needed a break.
Hope that flowered in lives of close-knit relationships and heartfelt acts of kindness.
Hope that is strong enough to stand tall, to be a sign of the best in people, and that will last through the continuing investigation.
For Gaby, the fire reminded her of why God placed on her heart a desire to live in the area around Grenfell. The close bonds she nurtured before and after the fire revealed both hope in human actions, as well as hope in following God's plan. The book is a calling for you to see where God has placed you, and why. It offers questions for reflection, and ways to make a difference where there is a need. To pass on the hope God gave you.
Grenfell Hope by Gaby Doherty is due for release on the 18th May. Order your copy today.
May 14th, 2018 - Posted & Written by Aaron Lewendon