Now everyone can do more than simply read a paper Bible, thanks to 'GLO Premium' we can experience it in an interactive way.
Join Eden.co.uk as we look up-close at this revolutionary, immersive Bible reading experience that brings the Word of God into the hands of today's digital congregation.
'GLO Premium' (pronounced 'glow')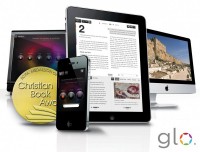 GLO Premium
GLO Premium can be used on all of these devices!
When you open 'GLO Premium' (winner of 2010 Bible of the Year) it looks nothing like your usual Bible. The unique zoomable interface provides simple ways to visually browse and filter biblical content through 5 'Lenses': Bible (by the canonical order), Atlas (by a geographical map), Timeline (by chronological order), Topical (by topics and issues) and Media (by media types). It looks sub-zero cool and makes finding what you want much easier than frantically flicking through pages.
Attached to every verse is a relevant and enlightening cross-referenced digital encyclopaedia, enabling you to research around the text your reading, amounting to:
· 7,500+ Articles
· 2,300+ High Resolution Photos
· 450+ 360° Virtual Tours
· 650+ Works of Art
· 140+ maps
· NIV Study Notes
· Sync with 5 Devices (PC, Mac, iPad or iPhone)
· 4 Translations: New International Version (NIV), NIV (1984 version), King James Version (KJV), English Standard Version (ESV) and The Message
With all this content at your fingertips, 'GLO Premium' is a media platform which engages our internet shopping, e-book reading, smart phone and tablet using digital generation. In essence – 'GLO Premium' does to the Bible what the submarine did for deep sea explorers: instead of just skimming the surface, you can dive into the depths.
Perhaps an example will help me to explain …
For Example ...
Open 'GLO Premium' and click on Exodus 25 you'll see a computer-generated image of the Tabernacle below the text. Click on the Tabernacle and see where it was on a map (which looks very similar to Google Earth). Mount Sinai is in view as well as the tents of Aaron and Moses. Click on the Tabernacle and zoom down to explore inside. Go into the inner sanctum where the Ark of the Covenant resides and look through its golden lid to see the ancient tablets.
With 'GLO Premium' you can read the Bible, then dive in and experience it!
What You Need To Know Before Buying GLO
Make sure your System Requirements are up-to-scratch:
· Uploading all the media content to your computer will take up 18GB of your hard drive
· You also need at least 1GB of RAM to run the software smoothly
· Without this you won't be able to experience everything in the premium package
Apple Synchronisation:
· iPhone and iPad app's are available to down load for free
· You can sync the app to your PC or Mac for automatic synchronisation (for example, you can bookmark the scripture passages from the Sunday morning teaching and research it later on in the week at home)
· Unfortunately, this feature is only available with Apple products
Requires Internet Access:
· The Atlas and Media 'Lenses' will only work if your computer is connected to the internet
· To benefit from system updates and new content you will also need an internet connection and will need to signup via facebook to receive some of the freebies and support.
The End of the Word - Or the Beginning?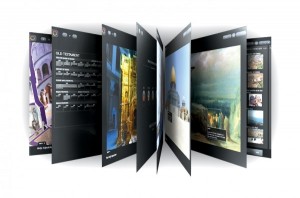 Rewind back to the 1500's and the Reformation was changing the world. With the invention of the printing press, the way that everyone interacted with the Bible changed from being heard to being read. The written Word of God was now in the hands of everyday people – the Bible literally transformed thanks to technology.
Now we are experiencing a digital transformation of the Bible. Again the Bible is transforming to impact a digital generation. More and more Christians are bringing their laptops and tablets to church instead of a paper Bible.
Now, thanks to 'GLO Premium' and other digital Bibles, the Bible is more visual, more engaging, more accessible, more informative and more fun than ever before. When you open this Bibles you see more than just text, you see a world of Biblical information.
This is the beginning of a new reformation – the digital revolution is now.
November 15th, 2012 - Posted & Written by James Warwood