The only Study Bible I own is a hand-me-down given to me by my Grandpa when I was 18. Here are my thoughts when I was introduced to a colourful and refreshingly different way to studying the Bible.
I've never heard of this Study Bible, let alone opened one. So the first thought that popped into my head when I heard the name 'Rainbow Study Bible' was – "a Noah's Ark Bible? That doesn't sound very studious". I was pleasantly mistaken.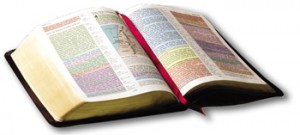 It's a Bible that supports everyday Christians to 'study' the Bible themselves!
When you open up the KJV Rainbow Study Bible (also available in the NIV) you'll see that every verse is highlighted with a colour. These 12 colours represent major themes that run through the Bible, so you instantly know what each passage is about and how it relates to the whole paragraph/chapter/book you're studying.
For me this is revolutionary. My Grandpa's Study Bible is labourious to navigate. It spoon-feeds scholarly commentary, rather than encourages an organic experience of studying God's Word. So when I had these colour-coded pages I flicked through Exodus, found all the plagues highlighted in Grey (the 'Sin' theme), and notice many patterns of intersecting and intertwining themes.
This handy visual tool puts everyone at a level playing field. It doesn't matter that you don't know the Bible inside out because the colours give you the context. Whatever's going on in your Christian walk, this Bible gives you the tool to study for it. For example...
... If you're struggling with faith, look for the ORANGE passages.
... If you're small group's studying discipleship, look out for RED passages.
... If you want to study what Jesus said about salvation, flick through the gospels and spot all the BLUE passages.
... If you're taking part in/leading an outreach project, enrich your good works with what the Bible says by searching for PINK passages.
... If this Sunday's preach was on Romans 12:1-3 – 'be transformed by the renewal of your mind' – you could spend your week studying Romans 12 in more depth, discovering the popular chapter's rich practical voice through the different themes Paul uses.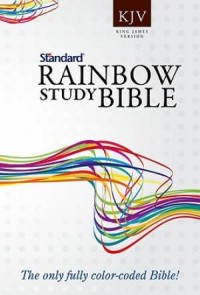 I also really appreciated the integrated maps. In my hand-me-down Study Bible the full-page maps hold plenty of information relating to many different books in the Bible. Although they are useful you have to flick to the back to find what you're looking for. Inserted at useful intersections, you'll get a text-specific map helping you understand the geographic significance without flicking to the back or deciphering a complex map.
I'm so impressed with this Bible, I can certainly see it enhancing my Bible Study. My Grandpa's old Bible has undoubtedly helped me in many ways, but it's failed to get me doing more than read what others have commented. The Rainbow Study Bible, available in stylish Imitation Leather editions in both NIV and KJV, encourage genuine interaction with scripture – ideal for keen new Christians, enthusiastic young people and anyone desperate for a deeper relationship with the Bible.
February 15th, 2013 - Posted & Written by James Warwood