Firebird is a wonderful new story by Amy Parker & Brent McCorkle. It teaches children about God's unconditional love and has something powerful to give us all no matter our age.
Jesus knew that stories were one of the best ways of explaining spiritual things that were difficult to understand. His parables continue today to help us understand the way God wants us to live our lives and treat each other. Firebird follows in this tradition and communicates powerfully God's love for his children.
So this Easter I've chosen this beautiful narrative to read as part of our Easter Sunday service and thought others may want to give the idea a try. It's a new way to tell just one part of God's amazing story – that no matter what – Jesus God's Son is always there and that nothing can separate from God's unconditional love.
Some stories are written in a way that really lend themselves to being read aloud and have elements that allow you bring the story to life – I've found these can provide a valuable tool in all age worship.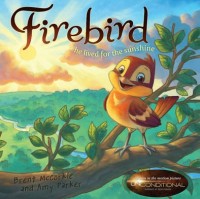 The story is simple;
Firebird is a young bird that loves the sunshine and complains when the clouds come and the rain falls, Firebird thinks that God has taken the sun away – but his mother encourages the little bird to fly through the storm and the clouds, although it's a difficult flight and he almost gives up, finally Firebird makes it through and finds that the sun has been there all along. He learns that although there are storms and clouds the sun never goes away – just like God's love.
The story is put together in a way that makes it a real joy to tell – it's easy to remember with beautiful illustrations in a large format picture book. I plan to have some images projected but to also hold the book as I tell the story.
If you're reading to a small group, write out the story and attach it to the back of the book with breaks through the text to help you know when to turn the page – it makes it so much easier than trying to read upside down.
If you're telling the story to a larger group it really helps if you can learn the story, don't worry about getting it right word for word, you'll find it easier to keep everyone engaged and it's easier to keep a steady pace as you speak.
Repetition allows the use of sounds to add drama and help younger children follow the story. I'll be using a light piano scale for the sunshine and a pitter-patter sound (again on the piano) for the rain with a tambourine to represent the Firebird. It's easy to get carried away with the number of sounds you can add in – many times I've found myself losing the pace of the story because I've made it too complicated – you'll find what you're most comfortable with after a few practices, 3 sounds work best for me – but find your own sweet spot.
This is just one story idea and it only covers a small part of the Easter story but I hope it gives some inspiration for those of you looking for something a little different this Eastertime.


February 10th, 2013 - Posted & Written by Jo Pountney