It's that time of year again. Everyone is reminiscing and wondering where on earth 2012 went, and with the beginning of the next calendar, New Year's resolutions (that are likely to be broken within a week) are made with cheerful optimism. As the Christmas buzz fades away you have an opportunity to ponder how you would like to make a difference in 2013.
We've selected a few daily devotionals to help you kick start 2013 into a year of fruitfulness and spiritual growth.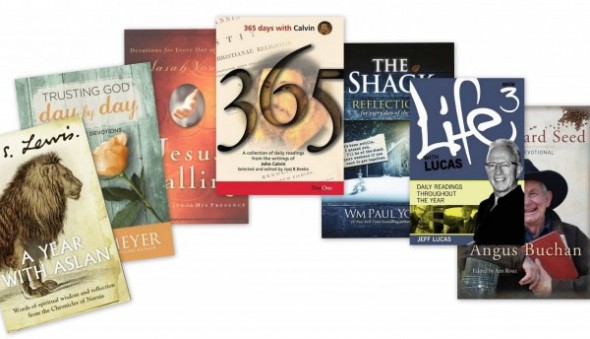 If you're looking for something a bit more traditional Day One Publications have a series of 365 Days with famous theologians such as 365 Days with Calvin or 365 Days with Spurgeon Vol. One. Each gives a verse and suggested further reading alongside a challenging and inspiring reflection, though some of the language may be a bit tricky these devotionals are rich in biblical wisdom.
Joyce Meyers's ministry and books continue to encourage and develop Christians around the world, particularly women, and this 365 day devotional Trusting God Day by Day is no exception. Released in November 2012 this hardback devotional helps you to live 'intentionally', rather than 'detentionally', as you are encouraged to fulfil God's purpose for your life.
A Mustard Seed is the lastest daily devotional from bestselling author Angus Buchan of 'Faith like Potatoes' fame. Start your day with a smile as you read through a passage of scripture, a meditation from the man himself, including his world famous anecdotes, and finishing with a short prayer.
Christian funny man, Jeff Lucas, is known for his accessible and engaging books and is a regular key speaker at events such as Spring Harvest. Third in the series, Life with Lucas Book 3 is a 365 day collection of devotions taken from the popular series 'Lucas on Life Every Day'. This edition looks at the book of Philippians, Proverbs, Joseph and stories from Jesus' ministry. If you're looking for a devotional that is both spiritually informative and entertaining then this could well be for you.
The Jesus Calling devotional has been a huge success in the States and is beginning to spread across the UK. Sarah Young's unique book of daily devotions is based on her own experiences of God. It's been so popular you can even download it as an app!
If you are looking for something a bit different why not consider CS Lewis' A Year with Aslan. 365 passages taken from the Narnia series have been collected and presented in one daily devotional, with additional reflection on the Christian walk. Taking the most poignant quotes from the 7 books brings together a set of meditations that would work well alongside a One Year Bible.

So there you have it, a quick run down on some of the devotionals out there to guide you through 2013. But there are so many more available in a wide range of styles, levels and content. Take a look at our department for devotional and daily reading books, simply click the link to go straight there and find the daily devotional your looking for.
January 4th, 2013 - Posted & Written by Anna Hockley