For King and Country are made up of two Australian brothers Joel and Luke. The band name wasn't born until "the boys" (as they were previously called) were hitting the record button in the studio.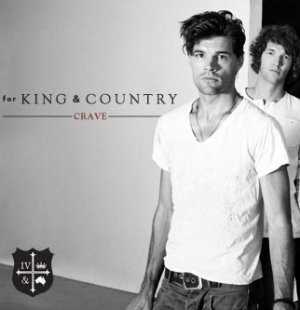 Living and writing in Nashvile, For King & Country liked the sound of the British phrase, which was shouted before battles in times gone by.
Judging by the fact that Joel and Luke have a famous sister by the name of Rebecca St James, it looks like musical talent runs in the family.
Their debut release Crave has been described as Australia's answer to Coldplay. But their own take on the pop/rock genre is surprisingly original.
Opener Light It Up begins with a complicated piano line and soft vocals not unlike Athlete or The Calling. The brothers sing "Light it up and let it go don't you see that you're not alone" before a synth comes in and the second verse begins. By the time we reach the second chorus, the band are giving their all and electric guitars and a powerful drum beat have been added.
The opening lyrics of second track The Proof Of Your Love are inspired by 1 Corinthians 13:2 "If I have not love, I am nothing", while the chorus is a cry of "let my life be the proof of your love". Laiden with strings, multiple vocal tracks and a short and simple guitar solo, it's similar in sound to some of Downhere's pop anthems.
Missing also starts with an innovative piano riff before a dance-fuelled keyboard sound and breathy vocals result in a sound not dissimilar to 30 Seconds to Mars. It's one of the heavier songs on the album, and while it's an impressive effort, the chorus doesn't quite have enough impact to make it a stand out song.
Busted Heart is the band's first single. Another beautiful piano riff and more emotion filled vocals pour out of the CD. People Change has the kind of strong, mid-tempo, high-pitched chorus you could imagine Take That singing. Middle Of Your Heart is a great upbeat track while Love's To Blame is an emotional ballad about striving to be near to someone who is "no longer mine".
Perhaps the greatest song on the album is the chirpy "Fine Fine Life". "Jesus stranded with a flat tire / and he's grinning ear to ear / And whispering these words under his breath / It's a fine, fine life". Yes, the lyrics are puzzling, but the feel good catchy chorus, more than makes up for a little bit of head scratching.
Pushing On a Pull Door is similarly memorable, if only for the image of someone repeatedly acting out the title of the song. Musically, it's a great tune full of life and energy.
With this, their debut album, the duo has saved the best till last. Title track Crave is the last of 11 songs. "Hope is what we crave and that will never change" is the message. It's the most basic of all of the band's songs, with the instrumentation and melody being simple, yet effective. It's a stunning end to a good album.
The duo claim to have spent years writing and developing what they call an "International-Pop-Rock" style. For King and Country have definitely established their own sound for their debut release. It's pop driven enough to immediately attract fans, yet different enough to make the duo ones to watch. For a debut album, Crave is certainly impressive. But the follow up is the recording that critics will watch with particular interest.
Rating: 7 out of 10
March 25th, 2012 - Posted & Written by Sam Hailes