A census which aims to gather the views of Christians about the thorny topic of Climate change, is nearing completion.
The Christian Census on Climate Change, which has been pioneered by a group of Catholics from Middlesbrough, has been gathering the views from across the denominations since November.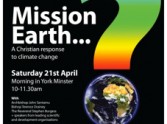 And it has caught the attention of both committed environmentalists, and climate change sceptics within the church.
But the census organisers say that their intention was always to allow people to voice their opinions, so that an accurate picture of how the church feels about the subject, can be put together.
Emma Casson, the project's administrator said: "It was set up by a group from Middlesbrough diocese, and in particular a man called Robert Thornily-Walker, who as an engineer is used to working out risk factors in his work.
"He realised that many Christians weren't considering the risk that climate change poses to the world, and wanted to start Christians talking about the subject.
"The project began through the Justice and Peace, but began to spread after the steering group met with William Hague, the MP for the area who pointed out that the most effective way to lobby government is to get faith groups behind an issue.
"Clearly though we need to open the subject up for discussion, and already we've had a huge variety of responses."
Opinions expressed by respondents demonstrate a wide range of views are held in the church:
'Our family don't believe in global warming. I have just graduated in physics but I have not looked at the data because I steer clear of politics. I am sure its all wrong.'

'I have been looking at the web and it seems clear that even if climate change is caused by man, it is still God's will, so it would be wrong to oppose it.'
'It is gradually occurring to me that the reason why we are not concerned about global warming is that it will kill those in the developing world first. It's a form of racism.'
The census will be closed at the end of March, to allow time for data to be collated, there will be a presentation of the findings at a special service at York Minster on Saturday, 21 April, called: 'Mission Earth: A Christian Response to Climate Change.'

The service will be led by Archbishop Sentamu, Bishop Terence Patrick Drainey, Rev Stephen Burgess Chair of York and Hull Methodists, and leaders of other denominations.
There will also be a number of sessions looking at issues surrounding climate change and environmental sustainability.
For your chance to take part in the census, or to find out more about the York Minster event, click here.


March 2nd, 2012 - Posted & Written by Simon Cross