The UK youth charity This Way Up has been working since 2006 to help young people affected by loss through parental separation and bereavement. Its work is now becoming international, as it expands into South Africa.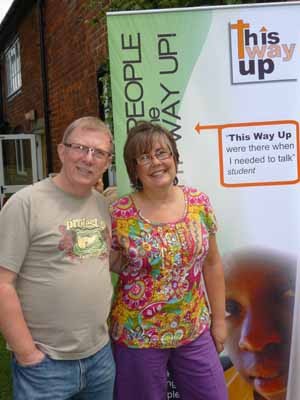 Pete and Mary English, founders of This Way Up.
This Way Up was founded by Pete and Mary English, who have a vision that one day every young person in the UK will have access to Christian-based resources and support if they have experienced loss.
The charity, based in Solihull, runs courses such as Lost & Found –an 8-week course that allows teenagers to reflect on and compare their experiences with others. Its aim is for students to identify the feelings behind loss experiences and provide strategies to deal with and grow through such emotions.
This Way Up has also produced a one hour lesson that can be used in schools and initiated a peer mentoring system. The charity trains up Christian youth agencies around the country to run the courses, and also provides one to one support to students local to its area.
Pete English: "Sadly the need for our support is not going to go away. Schools are realising that children and young people cannot concentrate on their school work when they are worrying about stuff that is happening outside of school. Teachers don't have the time to spend listening to young people who are struggling with various issues at home (even though they would like to). This is where This Way Up can help. By training church workers to get alongside these young people with tools like the Lost & Found course, we can help young people to understand their feelings and develop strategies to cope."
One of the charity's students, South-African born Ettienne Lombard, was trained up to run Lost & Found in local Solihull schools in 2007. Then Ettienne discovered that he had a rare form of leukaemia and had to return to South Africa with no hope of recovery.
However God has been using him to work with young people in South Africa and Pete and Mandy have now travelled there to help Ettienne train over 30 youth workers in Swaziland to use the material with young people affected by HIV/AIDS.
Ettienne has already trained hundreds of workers across the Western Cape of South Africa and spoken to thousands of young people in schools across the Cape about how loss affects individuals so that they better understand their feelings.
Pete said: "When we heard that Ettienne had leukaemia all those years ago, we really thought he was going back home to die. It just shows how small our faith was and what an amazing God we serve. We join Ett on 13th April and look forward to training many workers."
April 16th, 2012 - Posted & Written by Claire Musters