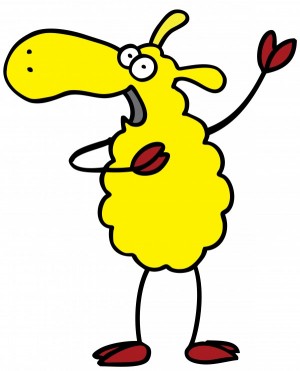 Hi Friends,
It's Cecil the Sheep here. The good people at Eden asked author Andrew McDonough to to write a riveting blog introducing the Lost Sheep series of books.
Unfortunately, being a children's author, Andrew can't write more than 170 words without needing a cup of tea and a lie down, so the job has fallen to me. You may have seen me around the traps, the Lost Sheep books are a favourite of kids across the UK and the stories are regularly shared in churches, messy churches and schools.
For those of you who don't know Lost Sheep, let me tell you a story . . . Way back in 1989, in far off Australia, young bible college student Andrew McDonough was asked to give the dreaded 'children's talk' at an enormous church. Andrew had one talent — he could draw a sheep. After extensive research, Andrew discovered a sheep story in the Bible. He drew six pictures on overhead projector film (ask your grandparents), told the 'Cecil the Lost Sheep' story and was amazed at the enthusiastic response of the kids and adults. Discovery number two — stories are a powerful. Lost Sheep was born. Since then Andrew's created loads of stories.
The super exciting news is that Lost Sheep have teamed up with Malcolm Down & Sarah Grace Publishing to bring you a stack of shiny new books.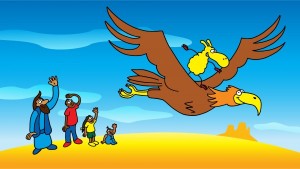 Cecil and Psalm 8 is a star-gazing, guitar-blazing, sheep-grazing, God-praising, a-mazing, romp through Psalm 8. I'm on the front cover sky surfing on an eagle. If you want your kids to know Psalm 8 off-by-heart and inside-out, get this book.
The way of the cross follows Jesus' Easter journey from the garden to the cross. It's a sad and terrible story, not what we'd normally tell our children. But even young children need this story of courage, faithfulness and love. The pictures in this book are powerful but gentle, just what you need for sharing Easter with young children.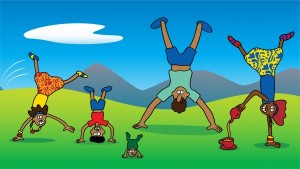 The Image of God. There are no sheep in this book, which is a bit of an oversight that I hope is corrected before the second edition. But it does include a picture of a baby with a beard and the very important message that each child is made in the image of God.
Proverbs is a collection of four wordless stories based on four wise saying from the book of proverbs. There's loads of wisdom and sheep in this book.
Later this year we're re-releasing my story Cecil the Lost Sheep and the Bethlehem Town Christmas story. I'm sure if you ask nicely the people at Eden will pop them in the post to you once they roll off the press.
I'll catch you later on,
Cecil the Sheep
May 11th, 2018 - Posted & Written by The Editor