Grammy Award-Winning worshiper, Chris Tomlin, has unveiled his 11th studio album 'Burning Lights', including the next church worship anthem 'Whom Shall I Fear (God of Angel Armies)'. We take a closer look at the luminous album, reveal the story behind 'Whom Shall I Fear' and tell you about our favourite songs from the album.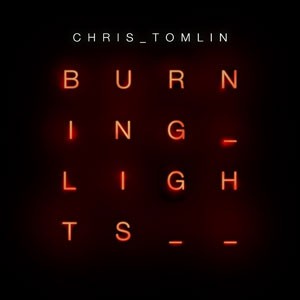 Due to be released on 7th January 2013, the album has been Chris' longest project to date, taking a staggering 12 months to write and produce. His last studio album called 'And If Our God Is For Us', released back in 2010, won him a long-deserved Grammy Award.
Chris explained that when the album was in the final stages, a song unexpectedly burst into life. He sent his friend, Ed Cash (who co-wrote 'How Great is Our God'), a text message asking if he was available to write a song together. Immediately his phone buzzed with an excited reply. Ed explained that in the middle of the night his wife shook him awake and asked him to pray for peace. He grabbed his guitar and started to sing a spontaneous chorus:
"I know who goes before me // I know who stands behind
The God of Angel Armies is always by my side.
The one who reigns forever // He is a friend of mine
The God of Angel Armies is always by my side."
– chorus from 'Whom Shall I Fear (God of Angel Armies)'.
The morning came and Ed remembered that spur-of-the-moment chorus and thought of Chris when all of a sudden he received the text message. They immediately set to work and crafted the song 'Whom Shall I Fear (God of Angel Armies)'. The phrase 'God of Angel Armies' comes from a story in the Bible where Elisha comforts his worried servant. A small army had them surrounded and trapped in Dothan and his servant came to him panic stricken. But Elisha had the spiritual eyes to see beyond the physical:
'Don't be afraid', the prophet [Elisha] answered. 'Those who are with us are more than those who are with them' ... Then the Lord opened the servant's eyes, and he looked and saw the hills full of horses and chariots of fire all round Elisha. – 2 Kings 6: 16-17, NIV.
That's the heart of this song: for your eyes to be opened when you're feeling burdened by the troubles of the world. Those who are for us are more than those who are against us because God surrounds us with his armies. What a faith-building worship song! If you're looking for the next worship song to dominate UK church worship in 2013 – 'Whom Shall I Fear' is a heavy-weight contender.
As promised, here are the songs from 'Burning Lights' we are most looking forward to hearing, owning and singing in church:
CROWN HIM [MAJESTY] (the classic hymn – 'Crown Him With Many Crowns')
• Chris reinvigorates the nationally loved hymn – 'Crown Him with Many Crowns'
• Includes an additional chorus and verse
• Brings the rich wisdom of a classic hymn into the 21st Century
• Also features beautiful female harmonies from Kari Jobe
WHITE FLAG (by Chris Tomlin)
• Powerful anthem from Passion Conference 2012
• "We raise our white flag, the war is over // Love has come, your Love has won."
• Inspires abandoned, all-consuming worship to the King of Love
GOD'S GREAT DANCE FLOOR (by Chris Tomlin & Martin Smith)
• Dance floor worship! Much like an Owl City track
• Co-written with ex-Delirious singer – Martin Smith
• Stretches the tent pegs of worship, it's nothing like the run-of-the-mill worship sound
And of course ...
WHOM SHALL I FEAR [GOD OF ANGEL ARMIES] (by Chris Tomlin)
• Easy to learn, easy to play, easy to sing
• Reminiscent of 'St Patrick's Breastplate', the beautifully crafted Irish poem
• Has all the hallmarks of a church anthem – powerful imagery, singable melody & passionate chorus
January 4th, 2013 - Posted & Written by James Warwood