With the dawn sun to announce its illuminating contents, the Bible Speaks Today (BST) Commentary Series is for Bible readers who want the light of what God is saying right now to shine through their private studies or public ministry.

The New Testament BST commentaries are synonymous with the name of loved Bible teacher and prominent Evangelical; the late John Stott. With fellow editors Alec Motyer (Old Testament) and Derek Tidball (Bible Themes) the expertise of more than 20 individual authors is focused on BST's threefold aim of accuracy, contemporary relevance and readability.
Accurate, Applied and Accessible Bible Study
Referred to as 'commentaries', the editors themselves don't attach the label to the series. "Commentaries," they argue, "tend to elucidate the text rather than apply it, and tend to be a work of reference rather than literature." That sounds a bit pretentious until you open the covers and sample the depth and quality of the writing.

The writing is exceptionally good and there's is a lot of it; you got a lot of text and a lot of pages for your pounds. These are not quick reads but they are readable; and you don't have to know it all before you start. Abbreviations are fully expanded, extensive footnotes give you background knowledge right there on the page (not lost in an appendix) and if you still want more, the bibliography tells you where to find it.
How Long Does it Take to Write a Sermon?
The BST Series is for you if you take your personal study or public preaching seriously. It's for Bible readers and Bible preachers who want – above all, to get it right. Yet the 22 New Testament (now available complete on one best selling CD ROM), 30 Old Testament and 13 Bible Theme books are anything but dry, academic works.

All the books in the series are written by authors with practical, real world preaching and pastoring experience. Their first concern is communicating what the Bible says for today's Christians to live out God's message in the home, workplace, school and community in which they find themselves.

Opening the BST Message of Kings, John W. Olley, research associate at Vose Seminary in Australia asks, "How long does it take to prepare a sermon?" All ministers will appreciate the truth of his answer: "All my life up till now." BST doesn't offer any shortcuts, but it does help ensure that your study is worthwhile and your delivery effective.
Here's Where to Start with Your First BST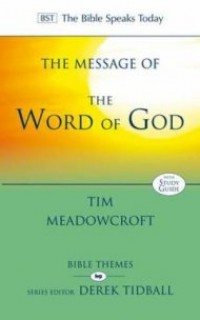 If you're new to BST you'll want to sample its style and content with something that'll help you prepare sermons or deepen your personal understanding. Start with one of the newest BST 'Bible Themes' Series; Tim Meadowcroft's The Message of The Word of God.

Written 'on site' at The Bethlehem Bible College in Bethlehem, Tim gives you the evidence for his for four key assertions: God Speaks, God Speaks in the Written Word, God Speaks in Christ and God Speaks Today.

For Christians called to live the Bible, and preachers charged to communicate its meaning this BST edition, with its comprehensive study guide, gives you a clearer appreciation of the Word of God preserved in scripture and speaking still - today.
February 10th, 2013 - Posted & Written by Les Ellison