Auto-B-Good is the Emmy award-winning animation series designed to steer your 4-10 year olds down the road of maturity.
Parents, Sunday school teachers, and big kids everywhere … start your engines.
Cars that teach
Welcome to the City of Auto, a friendly town populated by a community of talking cars. The colours are bright and vibrant, the cars have eyebrows and the grass looks like a brand new carpet. But most importantly, the episodes teach kids Bible-based values and character traits.
Every DVD contains 10 episodes, each built around a moral value or positive character trait. Hit songwriter Rick Altizer (Worship Jamz) has written top new songs to finish each episode with a catchy melody and a Christian message. Your kids are invited to join Johnny, Izzi, Cali and friends as they enter crazy golf tournaments, climb mountains, water the garden, and film a block-buster movie whilst learning valuable life lessons.
The journeys are fuel-injected, their moral lessons are educational and their seat belts are buckled ready for lots of exciting adventures.
Character building: the 'L' plates of life
Auto-B-Good drives home those character traits that matter most such as self-control, kindness, patience and loyalty. You can be sure that the cars and their adventures will teach children values that will last.
Watching the full-throttle fun and tyre squealing action is like buying your kids driving lessons. So when that day comes for their tyres to hit the road they will know the directions for keeping on the straight and narrow.
DVDs for after school
The Auto-B-Good series started life as a popular TV show, being aired all over America before, during, and after school. Now with 5 Emmy Awards for animation and children's programming, you too can take home a piece of the action.
With approximately 132 minutes split into 10 episode on each DVD (each around 13 minutes long), and an ever growing list of titles so far there is plenty of Auto-B-Good fun to be viewed. So be at peace in the knowledge that on a rainy day your kids can kick off their school shoes, jump on the sofa, and wind down from the school day in front of a fun and encouraging Christian message.
DVDs for after church
Once the Sunday service ends, most churches follow this simple structure. The adults pour themselves a brew and engage in civilized conversations and the kids jump on the chairs having imaginary sword fights with their children's bibles.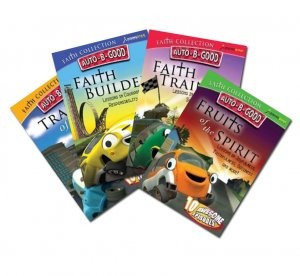 So, if you're looking for something to keep the kids occupied and engaged after a church service I would suggest the Auto-B-Good Faith Collection DVDs as a great option. Your church kids will not only be entertained, but also spiritually stimulated.
The Auto-B-Good DVDs are a great answer to rainy days, after church chaos, and after-school boredom.
October 11th, 2012 - Posted & Written by James Warwood