Amy Boucher Pye, author of Finding Myself in Britain, shares 3 recipes perfect for a summery BBQ
The British summer may be fickle, but rain or shine, the long days are a good excuse for a summertime barbecue. If you slap some burgers and sausages on the grill, please don't let them be raw on the inside and burnt on the outside! A little patience goes a long way. Following are some wonderful accompaniments to whatever you grill, whether halloumi cheese, salmon, or the old standby, hamburgers. (And if your only encounter with baked beans has been with the Heinz variety, don't miss out on a truly tasty alternative.)
Texas-style Baked Beans
Serves 12
1 lb (450 g) streaky bacon
2 large onions, chopped
1 clove garlic
Canned baked beans with pork sausage (US: 3 cans of 16 oz; UK: 3 cans of 450 g)
1⁄4 cup (65 g) dark molasses (can be found online or in big supermarkets in the American section, or you can substitute black treacle)
1⁄3 cup packed (75 g) light brown sugar
1 cup (250 g) barbecue sauce
Fry the bacon, remove from the pan, get rid of excess fat, and crumble. In the same pan, using some of the fat from the bacon, sauté the onion and garlic until soft. In an oven-ready casserole dish, such as a cast-iron or ceramic one, add the beans, bacon mixture, and other ingredients. Bake uncovered for 30–40 minutes at 350°F/180°C/gas mark 4, until it bubbles.
Corn Salsa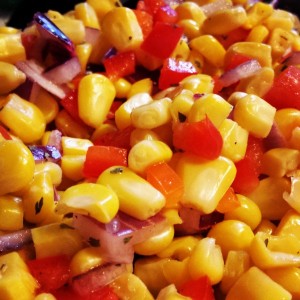 Image source: Javcon11*, flickr
Serves 8
2 cups (350 g) sweetcorn (frozen or fresh)
1 medium red onion, chopped
1 lb (450 g) jar of roasted red peppers, drained and chopped
2 tablespoons lime juice
1 tablespoon olive oil
2 tablespoons cilantro (coriander), chopped
Salt and pepper, to taste
Heat some olive oil in a cast-iron frying pan over high heat.
Add corn, onion, and red peppers; sauté for 5 minutes or until slightly blackened.
Place in a bowl and add lime juice, oil, salt and pepper, and cilantro (coriander).
Fruit Pizza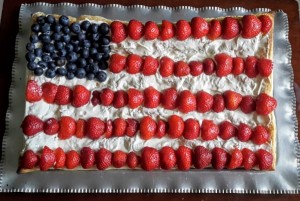 Serves 8
1 sheet puff pastry
1–2 280 g tubs cream (soft) cheese
2 tablespoons runny honey
Fruit to decorate
Bake the puff pastry according to the directions (I always make the pizza in a rectangular shape).
When it cools, stir together the cream cheese and honey, experimenting with how much you prefer of each.You can also add powdered (icing) sugar if you'd like it sweeter, but I never do.
Top the puff pastry with the cheese/honey mixture, and add sliced fruits to decorate. You won't be surprised to learn that on the Fourth of July I make an American flag using strawberries and blueberries.
Add some kiwis, cherries, raspberries – use your imagination and get creative.
July 14th, 2016 - Posted & Written by Laura White