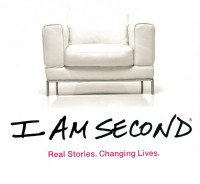 If you haven't heard of I Am Second then you won't be alone, but more and more people are discovering it everyday. In 2011 Doug Bender and Dave Sterrett got together and compiled a set of personal testimonies under the strap line 'I Am Second'. Since it's conception it has been impacting the lives of people all over the world.
The concept is simple but the results are proving to be life-changing. When you become second and put God first then life is never be the same again. Each story in the book, dvd or featured on the website has been chosen because reflect everyday struggles that people face and the broken world that we live in but each one also highlights the hope of the Gospel and its power to change.

Taking real-life stories of heart-ache, addiction, abuse and fame this collection of honest and challenging testimonies will feature some familiar faces from both the US and UK, from sports stars to music legends. But those are only a fraction of the stories, they sit beside ordinary people like you and me who found themselves in impossible situations until they met God.

What makes I Am Second an inspirational tool for your church?

After the success of the book it seemed natural to its creators to take the material and apply it in a church setting. It's a tool to inspire those searching for the God who is willing to reach down and transform lives and to encourage those in the church. The I Am Second Conversation Kit includes a 6 session DVD with each video lasting 8-12 minutes and a participant's guide to help those watching reflect and respond. Topics covered include relationships, struggles and success.

One of the most helpful things about using a resource like I Am Second is the personal approach; your faith is about a personal relationship with God, one that only takes acceptance to begin. The DVD is really accessible and well shot, it leaves you wanting to find out more about the those involved and their lives but more so wanting to know about the God who has the power to change the hardest of hearts and break into situations that appear impenetrable.

Reach people with your story

One of the ways in which the study kit can be used is to encourage people to think about their testimonies, their own experiences. Yes, not everyone has a dramatic earth-shattering conversion story but each person's conversion is a story of transformation and one that can be used to tell other's of God and His power.

So perhaps your church is looking for a study that will bring people together and help them to tell their story of becoming second. Or maybe you are looking for an evangelistic resource with a difference, a striking production and display of raw emotion as people tell their unpolished, honest experience of learning to become second.

So maybe it's time you and your church joined the revolution of second.


October 18th, 2012 - Posted & Written by Anna Hockley