We Are Worship – an international online resource for worship leaders, musicians and songwriters – is officially launched!

The brand new website, run by Integrity Music Europe, boasts over 2,000 congregational worship songs from some of today's top songwriters including Matt Redman, Graham Kendrick, Stuart Townend, The Getty's, Tim Hughes, Brenton Brown and Martin Smith. When you sign up, you gain access to 5 free songs with an MP3, chord chart and sheet music download. Plus: you'll be blessed with a song and two hymns sent directly to your email inbox every week - free!
In a recent press release, Managing Director and Vice President of Integrity Music, Jonathan Brown, explained how the website is less about pushing stars and selling records and more about the songs and you singing them in your church. "For us, it always is, and always has been, about worship – both what we sing and how we live. We have a rich heritage of songs; songs of substance that fuel the church and help us all love, follow and serve God more truly."
"And that's why we're launching WeAreWorship.com – a new site for worship leaders and musicians, songwriters and those who just love to sing about the goodness of God. The name speaks of who we are, what we were created to do and how we were created to do it... in community."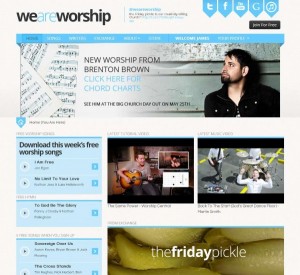 Designed to unite and inspire, the new website hopes to draw in a global worshipping community. With the wealth and heritage available on the site, it's clear there's no single voice driving the initiative, but a shared desire to equip worshippers to better serve God and the Church. Through a healthy and growing blog, called 'Exchange', video tutorials (currently with Ben Cantalon teaching some interesting chord shapes for 'The Same Love'), song stories, music videos and free downloads all the website needs now is some visitors!
I decided to explore the websites blog; which already looks very healthy. I confess that I expected to find a handful of posts at around 400 words all by the same person. But I was pleasantly surprised to find a host of contributing worship leaders with relevant topics and some challenging questions, including:
• A lengthy article by Graham Kendrick about his mastermind subject (the Psalms).
• The story behind 'Cornerstone': Reuben Morgan explaining how the song was written in response to being in Norway when the gunman killed 85 people in an island youth camp attack.
• A revealing post by Tim Hughes discussing his endless struggle to keep passion and wonder in his worship; based on Romans 12:11 & G. K. Chesterton words: "let your religion be less of a theory, and more of a love affair".
• An intriguing post by Lex Buckley asking why we lack female worship leaders.
Another intriguing feature that caught my eye was the 'Friday Pickle', a weekly feature designed to spark discussion and help worshippers reflect on their churches and personal practice. Last Friday's question was, 'is creativity killing the church? – asking how we balance innovation and heritage in sung worship. The discussion that followed was brief, but absorbing. If you want in on these weekly musings, be sure to follow the websites twitter feed: @weareworship.
Whether you are a keen songwriter, worship leader at your church, band member or just worship in your car, bedroom or at your computer desk, this new online community is waiting for your engagement, comments and voice. And whatever you're doing with your day, remember: our whole lives are melodies of worship harmonizing with the world around us.
June 1st, 2013 - Posted & Written by James Warwood