In the previous three articles, we have examined what, how and why Christians sing. From concerns over creativity to questions about community, much debate has been sparked. While images of worship leaders leading rock bands are familiar to many, a very different style of music has been enjoying a resurgence in recent years. In this, our final piece on the modern worship movement, we talk to John Bell, a hymnwriter and speaker for the Iona Community about the future of worship music.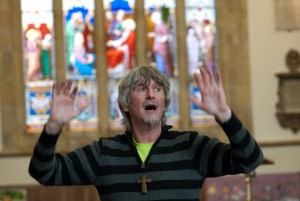 John Bell has witnessed a growing interest in very early Celtic expressions of Christianity. Spending 8 months of the year travelling the globe, the Scotsman teaches congregations how to embrace early Christian expressions and learn from Celtic history.
But the hymnwriter and author is concerned about a "very distinct phenomenon", which he describes as a "performer mentality" in the church during the 20th and 21st centuries.
"Publishers in the past had produced songs for choirs to sing, now there are publishers that produce songs that gifted people who have instruments and good voices can sing up front, and there's a market for Christian music."
Martin Smith from Delirious said something similar in his autobiography: "There was a time for many of us back in the early 1990s when worship had nothing to do with money, status, or the sort of success that could be measured by a spreadsheet. It was a time when worship songs mattered only in as much as they enabled people to draw closer to God. I miss those days."
John believes a commercial influence on worship can result in a "slimming down of biblical content".
"Maximum attention is paid to words like 'me', 'love', 'power', 'God' or some other combination. The church has to be able to allow people to express their delight and also has to minister pastorally to people who may be going through a hard time. Worship which relies solely on high-octane music does not minister to people."
"People may be dealing with divorce or redundancy or the death of somebody who they loved or sudden illness. Issues in society deserve to be brought to God in song and prayer. If you're only out for what will make a commercial hit, you're not liable to be producing that kind of music."
John believes that in order to move forward in our times of worship, we must first learn from history.
"If you take a look at economics, that word does not fit into a worship song frame of reference, neither does it work in a conventional hymn tune, yet for the last five years people all over the Western world have been besieged by financial incompetence in the stock exchange and have lost a great deal of money."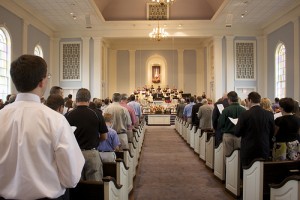 Church worship
copyright wohlford creative commons
"100 years ago people had no difficulty with singing about child mortality which was high in the industrial period in Britain. There were hymns like 'if I come to Jesus he will make me glad, he will make me happy if my heart is sad' which was to deal with the political reality of high infant mortality and the laissez-faire approach of the government.
"Whether it's sex slavery, asylum seekers or living in in a culture alongside other major faiths, either the Victorian hymn tune or the praise and worship song just doesn't fit with those kinds of subjects so you have to find something else."
From talking to people involved in worship music, one of the major themes being explored is authenticity. People aren't interested in singing the same songs over and over again. And neither are they content with one or two genres dominating church services. Churchgoers also want to rediscover community and embrace diversity.
Another reoccurring subject has been the use of scripture. Do our songs lack biblical input? Perhaps, but not everyone sees it as a problem. Brian Johnson of Bethel church recently said people "freak out too much" about lyrics.
"I honestly think that people freak out too much about whether it's biblical or not...People get hung up with this whole religious 'is it ok to sing that?' In my opinion it's where the heart is at. It's not devaluing the Bible or theology, it's saying when you're married to someone, you'd better be passionate about that person. It's the same with the Lord. If we're just quoting Bible verses to the Lord but our hearts aren't in love with him, he's going to see that."
Others are more concerned. Speaking to Christian.co.uk, well known Messianic praise and worship leader Karen Davis said she was "pleased" the songs she sings, which often contain Old Testament imagery have a reputation for being biblical.
"Praise and Worship is one of the weapons in the spirit that we have. The word of God is a double aged sword and proclamation and declaration is important."
Finally, and perhaps most importantly, Christians in the UK and beyond are not merely saying that worship "isn't just about singing songs", but they are acting on their beliefs. The songs have always been about God and for God, yet there's often a positive, if unexpected side effect. We may be singing louder and more passionately than ever before, but what concerns us is whether that passion translates into seeking justice and serving the poor.
As Amos said: "I've had all I can take of your noisy ego-music. When was the last time you sang to me? Do you know what I want? I want justice—oceans of it. I want fairness—rivers of it. That's what I want. That's all I want." (Amos 5:21-24 MSG)
Part one: 'Worship music: What should we sing?'
Part two: 'Worship music: How should we sing?'
Part three: 'Worship music: Why should we sing?'
April 13th, 2012 - Posted & Written by Sam Hailes