As the world of instrumental music for focus and work is growing, we take a look at, and listen to, the new wave of instrumental worship music available now.

It's no great revelation to say that words are of supreme importance in Christianity; more so than in everyday, secular life. Words are what spoke the world into being, and words weaved the very fibres of humanity's being at the beginning. 'The Word' that was there 'in the beginning' (John 1:1), and it was the words of Christ at which the crowds 'marvelled' (Matthew 22:22). Words offer the means to meeting God, to communicating with God, and are often the very instruments of change used by God.
So what does it mean when the words are not merely 'few', but are absent in their entirety?
Can worship music without the words still be called worship? And what is behind the recent resurgence of new, and atmospheric, instrumental worship releases?
Instrumental music has many roles today. From providing the soundtrack to daily life to a tool for focused work to a mood-setting device, to simply being noise with which to dampen silence. A quick look online will reveal an ocean of spacey, ephemeral, and atmospheric songs that are given increasingly obscure titles, and are nestled in playlists designed for work or finding calm. Take, for example, a playlist on Spotify called 'Deep Focus'. 11 hours long, and containing 162 songs, the playlist describes itself as helping you to 'relax and concentrate'. Most of the artists on 'Deep Focus' live in relative obscurity, yet only a short way into the list and you'll find a familiar name in the world of worship: Bethel Music.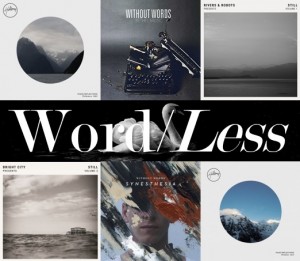 One of the band's most played songs on the streaming service is an instrumental version of Hillsong's Oceans (Where Feet May Fall) which, at the time of writing, has been listened to in excess of 13 million times. Given that the 'Deep Focus' playlist has over 2 million followers, you can bet that a good amount of people listening to Oceans aren't Christians looking for reflective music for prayer. But they are doing something vitally important; focusing.
Where a vast swath of instrumental music is used by listeners to focus on work at hand (including myself, who is listening to it right now as I'm writing this very sentence), instrumental worship's purpose is to focus our eyes on God. The songs are full of sustained synth notes and soaring pianos, always following the melodies of popular worship songs. Albums like Hillsong Worship's Piano Reflections (Vol. 1 & 2); Bethel's Without Words releases (the second of which, Synesthesia, features their version of Oceans); and Still volumes 1 and 2, the new series of instrumental albums from Integrity featuring a different group with each release (River & Robots and Bright City, respectively); each of these strip back the words from worship tracks, but are still unmistakably the same songs. But is it still worship without singing, without using words?
Lyrics can help worship as much as hinder it. All it takes is an overly poetic turn of phrase to change the focus from God to the words being sung. Or imagine you've never been to a Church before in your life, and all the songs are about being separated from the world, in another place, or looking forward to being somewhere other than the world. There is nothing inherently wrong with such desires, but to someone new to Church, those words will alienate them from faith, making it seem 'other' and 'exclusionary'.
And how can human language, with all its ambiguity and fallibility, perfectly address or describe a perfect God? It just can't. As Richard Hooker wrote, 'Our safest eloquence concerning Him [God] is silence'. It is human nature to want to interject into a moment with words - and when we can't, everything suddenly becomes a lot more difficult. Whether provoked by great awe or unfathomably deep pain, silence becomes the language of our most heightened emotional moments. It's where we just are, for good or for bad. Not hiding behind our words, or another's. And it can be the same for instrumental worship. This new wave of worship strips back the imperfect words of imperfect people and lets us focus clearly and openly on God.
Yes, instrumental worship is still worship. But where it differs is that it features less of our words, and more of a chance for God's.
It's also great for just focusing on work too, but in a worshipful way.
Still Vol.2 by Bright City is available to order today. You can listen to Great Are You Lord from Still Vol.2 below.
March 13th, 2018 - Posted & Written by Aaron Lewendon