A new(ish) movement is building followers in America and washing up on our shore line; it's called 'Resurgence'.
A handful of influential evangelical church leaders, (Mark Driscoll, Tim Keller, John Piper and others) have formed a theological cooperative to release challenging, hard-hitting books under the 'RE: Lit' branding. Read on to discover what it's all about and whether you've been missing out.
What Is Resurgence?
It's easy to get lost in the Christianity shopping mall of American mega-churches, global conferences and pastor super-stars. Everywhere we turn there's another preacher with another book speaking at another conference. I'm not complaining… I'm just very confused.
Resurgence is an excellent example. Go on the website and you'll notice underneath the logo it's described as a ministry of Mars Hill Church. Go to the about us section and you'll read this:
"Look around. The Spirit is up to something. There is a resurgence of biblically faithful, passionate believers on board with the mission of spreading Jesus' name. This is a movement anchored by a theological foundation."
Explore the website further and you'll discover the largest Christian leadership blog (according to them), a master's level theology centre, adverts for 'Resurgence 2013' (a huge Christian conference), a music label called 'Mars Hill Music' and a whole host of 'RE: Lit' books.
So to answer my original question – what is Resurgence – it's the Mark Driscoll Club.
The Mark Driscoll Club
Turns out this is Mark's baby. He is the president of the 'Resurgence Missional Theology Cooperative', to give the project its full title. Over the past 10 years, Mark Driscoll has gathered together a number of like-minded Evangelical church leaders for the joint pursuit of feeding, resourcing and empowering the church. And the fruits of their labours have reached us as the RE: Lit books.
Back in May 2011 he was asked to speak at the London Men's Convention in the Royal Albert Hall. It goes without saying it's easy to see why many Christians have strong opinions on his unique ministry. He even received his very own three-man protest, wielding placards with Bible verses and heresy pamphlets (and a website to match).
In a sofa interview with Richard Coekin, Mark explained how people have taken what he preached on Song of Solomon out of context. He was talking to his church which, he says, was asking those questions and needed straight talking biblical answers. Reading the comments below, I was intrigued to find a 50/50 marmite split on the video (with at least 10% of the comments removed by YouTube).
"Mark Driscoll knows nothing about humility it would seem." – Bayreuth79.
"That's one reason I like him so much - other pastors are far too shy (and in some cases, though not all, cowardly) to touch on sensitive topics such as sex, but Pastor Mark is open about difficult issues whilst still biblical in his teaching." – Blackoutninja.
"I would not want my son to model himself after this guy. Driscoll is not an example of what a real Christian should be." – JoNabs102.
"Go listen to someone who will cuddle grown men like babies if you don't like Pastor Mark." – Jacqulene.
"Christians like you give the rest of us a bad name." – Hennyis1.
The comments slowly become more a religious debate than a Driscoll discussion. Whatever your opinion on the controversy electro-magnet, if you dare to read one of his books you'll find that, behind his masculine appearance and loose tongue, is a serious Bible teacher.
RE: Lit Books Making An Impact in the UK
Here's three RE: Lit books we think are worth your time and which caused a stir/received applause. Or go to the RE: Lit Department and browse through the full catalogue for yourself.
Real Marriage by Mark Driscoll is at the centre of the debate. Mark, with his wife Grace, talk about sex and marriage – but go deeper into the subject then any Christian author has dared to publish.
The book hit the NY Times Bestsellers list. Whether it was because of the content or the controversy, I'm not sure. Hopefully it was both. What I do know is this book has helped many couples open up new discussions, grow closer together and even saved their marriage.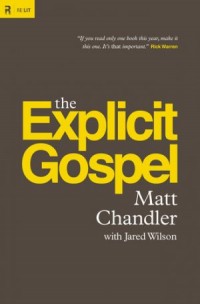 The Explicit Gospel by Matt Chandler asks the question: are you going to church and not hearing the gospel?
He begins his book by explaining a baptism service at his church, four people had the exact same testimony – "I grew up in church, I grew out of my faith, I rediscovered church and heard the gospel for the first time." This book aims to irradiate this issue, offering the over-churched and non-churched the explicit gospel.
"If you read only one book this year, make it this one. It's that important." – Rick Warren, author of 'The Purpose Driven Life'.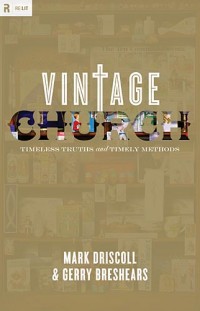 Vintage Church by Mark Driscoll & Gerry Breshears tackles twelve practical questions about church doctrine. It's a piece of accessible theology (as they are discussing 'ecclesiology') which connects contemporary culture to the Christian community.
This time he writes with a well-known evangelical theologian, Gerry Breshears, who has taught around the world (including Lebanon, Ukraine, Netherlands, Taiwan, Poland, Canada, and the Philippines).
They seem to have a good relationship, having released four books together. Vintage Church is the second, more practical follow-on to Vintage Jesus, which attempted to answer the toughest, most confounding questions this world has asked about Jesus Christ.
March 31st, 2013 - Posted & Written by James Warwood