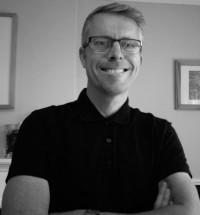 It may come as a surprise to you that someone who has written and illustrated approaching fifty Christian children's books didn't always have a passion to communicate the things of God to a young age group.

To be perfectly honest there was a time when my twin ambitions (and shallow ones at that) were simply to be rich and to be famous.

So what changed? Was it the onset of age (I was approaching 30) or did I discover an untapped altruistic side to my nature?

Well take it from me, it was none of the above. But something changed for sure.

I can even give you the date if you like. It was May 14th 1988. I remember it so vividly because I had an encounter with God on that day which completely revolutionised my life. In fact it ruined me, in a positive way.

Although I'd been raised in a Christian household I'd never got around to handing over the reins of my life to Jesus until about six months prior to this momentous event.

And now, at long last, I was born again but my relationship with God still felt distant and dry.

My personal prayer times lacked life and praying out loud was something I absolutely dreaded.

The Bible I found helpful and interesting but the words rarely leapt off the page at me as some had suggested they would.

And worship was still little more than singing songs, albeit now of a more contemporary style.

And then I got baptised in the Holy Spirit and everything changed.

There I was at this Christian meeting, expecting to be an onlooker, when the offer came for us to hold out our hands and to be filled with the Holy Spirit. Not quite knowing what to expect I duly obliged and got more than I'd ever bargained for and certainly more than I'd ever imagined possible.

Remember what happened to the disciples on the day of Pentecost?
Insert my name there.

We read in Acts 2 of how Peter and his companions were instantly changed men. Empowered by the Holy Spirit the lights came on and they suddenly saw things from God's perspective in a way that they'd never done before.

That's what happened to me.

An instantaneous revelation of God's best (the fullness of the life that Jesus spoke of in John 10:10) was ignited inside of me.

I suddenly just knew that the Bible was true, (even the maps).

Worship songs and hymns I'd sung without any vigour or feeling now became personal and heartfelt.

But something else had stirred inside of me and it was this I referred to in my opening paragraph.

Having worked as a cartoonist and illustrator for many years, often for children's comics and books, I had no other motive than those which were self-serving.

Not any more!

I knew that the depth of revelation God had given me of himself in this life-transforming encounter was something he wanted me to communicate to children.

I'll be honest with you; such was the strength of my feeling and passion for this mandate from God I'd imagined that he would fling wide the doors of opportunity and publishers would be beating a path to my door.

Not so!

God is in no rush and he always works as much on our character as our calling.

It wasn't until 1998 that my first children's book, 'What Shall We Pray About?' was eventually published. Each double page spread was packed with colourful images designed to stimulate ideas as to what the young reader could pray aloud to God.
This was my first attempt to help children personally connect with God and to articulate what was on their heart.

As my own children grew up I gravitated towards writing for the slightly older 7-11 year old age group and there I have stayed since.

My Boring Bible series of twelve books emulated the popular Horrible Histories and employed facts, humour and cartoons to bring alive the Bible to kids (and show them that it was anything but boring).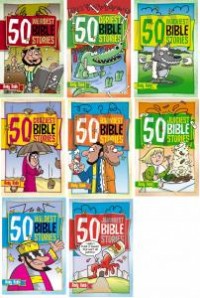 My 50 Bible Stories series milked the Bible of just about every child-friendly (and some not) story and were retold in my 'chatty' style accompanied by a lively cartoon. Just to make sure that the reader didn't get too cosy there was a bit at the end that they had to look up (in a real Bible) to answer a question or to find out how the story finished.
Sneaky, eh?

Eight books in all and 50 Weirdest Bible Stories (yes, that's the sort of crazy titles they went under) not only won a UK Christian book award in 2012 but one copy got placed in each library in the land by its publisher CWR.
Look out for 50 Christmasiest Bible Stories which is the latest edition to the series.

The more recent Professor Bumblebrain series aimed to tackle meaty themes such as God and Creation, once again using humour, facts and cartoons to give a rounded overview of the subject whilst creating the opportunity for the child to come to their own understanding.

As the icing on the cake, Professor Bumblebrain's Bonkers Book on Parables bagged the Speaking Volumes Children's Book of the Year 2014 award.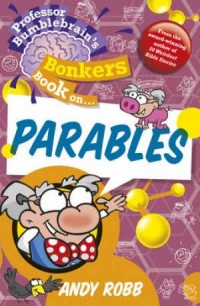 For all of these books it has been vital that I've had the freedom to produce books that express the fullness of God to children and I'm grateful for publishers who have allowed me to tell kids about God's best for them without restraint.

Which is all by way of introduction to a searching question that I'd like us to consider.

What precisely is 'God's best' for children?

Or, put it another way, how much do we think children can handle when it comes to being taught about God and experiencing him?

The reason I ask such a direct question is because the answer we give will determine what our ministry to children ultimately looks like.

Hold that thought and now let me drop in a couple of familiar, yet challenging, quotes from the Bible that may help shape our thinking.

The first is this from Ephesians 1:3.
'Praise be to the God and Father of our Lord Jesus Christ, who has blessed us in the heavenly realms with every spiritual blessing in Christ.'
In a just a few words the apostle Paul reveals the extent of what is available to every follower of Jesus.
All that belongs to the eternal realm of God is accessible to those who are in Christ. I hardly need add (but for effect I will) that this includes children.
To know what children have access to we have to understand the nature of the spiritual blessings to which Paul refers. So what are they?
Well for starters it's things such as: the assurance that we are a child of God, holiness, redemption, forgiveness of sins, acceptance, a knowledge that we're loved by God, grace, wisdom and insight, being secure in our eternal destiny. No doubt you can think of more.
So this is all about the depth and vitality of a child's relationship with God.
And now here's the other scripture I'd like us to consider with regard to children.
"Very truly I tell you, whoever believes in me will do the works I have been doing, and they will do even greater things than these, because I am going to the Father." John 14:12

Putting to one side, for the purposes of this article, the 'greater' bit (which I, like some, believe refers to being able to pray for people to be filled with the Holy Spirit) let's examine the implications of the verse.

The promise was of course made to Jesus' trusty band of disciples but it wasn't exclusive to them. The promise was for anyone (whoever) believes in him.
That would include me. That would include you. And that would also include a child.

Quite a striking statement for Jesus to be making and loaded with ramifications for those of us who have any direct involvement with children in the church or elsewhere.

We haven't time and space to chart the course of Jesus' ministry in this article but suffice to say it could ruffle a few feathers if, for a moment, we placed a child in our minds eye every time we read examples of Jesus healing the sick, casting out demons, proclaiming the gospel and then consider that they had the potential to do the same.

Yet this is exactly what Jesus appears to be saying.

The very purpose of the Holy Spirit being poured out at Pentecost wasn't to give goose bumps but for the continuation of the Kingdom work that Jesus had begun. The Holy Spirit is now God's representative on earth to enable everyone to reproduce the ministry of Jesus.
Even children!

Okay, so how that outworks practically with regard to the understanding a child may have at any given age and the way in which we present the things of God to them may vary but, as far as I can see, the experience of Jesus which is available to children, and the ministry expectations we should have for them, are the same as for us grown-ups.

Which is why I felt it important to make my earlier point that if we are not in this place in our personal walk with God then it will inevitably have implications for the children we minister to or care for.

Now before you begin to think that this sounds like I'm giving us adults a hard time, fear not!

My chief aim is to encourage and support each and every person who invests in the lives of children so that they can flourish in their relationship with Jesus and therefore flourish in ministering to children.

When we minister out of the overflow in our lives we'll inevitably see increased fruitfulness and release in the lives of the children we serve.

I'm reluctant to mention that familiar children's ministry scripture; "Let the little children come to me, and do not hinder them, for the kingdom of heaven belongs to such as these" (Matthew 19:14) but I do think there's something of significance we can glean from it with reference to what I'm saying.

Jesus' disciples had been on a crash course in getting to know the man for whom they'd given up everything. I'd proffer that their negative response to the children in this Bible passage wasn't out of malice rather as a result of where they were at in their relationship with Jesus at that time.

If you track forward from the gospels through to the early stages of Acts you'll notice a significant deepening in the revelation they have of Jesus' love for them and the love he has for others.

As a church pastor (my other job) I'm keenly aware that the people under my care will thrive if I am going great guns with the Lord.

If time spent with the Father was of paramount importance for Jesus then it has to be for me and it has to be for you.

In having established what I believe is 'God's best' for children I want to round this off by offering a couple of keys for strengthening our relationship with God and enabling us to be so full of his life that we are able to give the children we minister to all the help they also need to flourish in Christ.

One of these keys is to be selfish and prioritise time for just you and Jesus. He loves spending time with you and in that place he'll supply all the resources you need. Here's what happens when you saturate yourself with the life of Jesus, in Jesus' own words.

'Let anyone who is thirsty come to me and drink. Whoever believes in me, as Scripture has said, rivers of living water will flow from within them.' John 7:37-38
We get so filled with the life of Jesus that it overflows into others.
Another key is found in some powerful words that the apostle Paul penned in Ephesians 1:17-19 and which I regularly pray over my life. I've personalised it as a prayer that you may wish to use also.
'I keep asking that the God of our Lord Jesus Christ, the glorious Father, may give me the Spirit of wisdom and revelation, so that I may know him better. I pray that the eyes of my heart may be enlightened in order that I may know the hope to which he has called me, the riches of his glorious inheritance in his holy people, and his incomparably great power for us who believe.'
When we know God's best for ourselves we'll minister God's best to children.

www.andyrobb.co.uk


August 31st, 2015 - Posted & Written by The Editor