Upon meeting Terry Waite, it's hard to believe this man spent close to 5 years in captivity. Facing the harsh reality of mock executions and the loss of contact with his family. Yet, if you watched the news between 1987-1991 his face will be instantly recognisable.
For 1763 days, Terry Waite was held captive in Beirut. He had gone to Lebanon to negotiate the release of Western captives but instead he ended up hostage himself, enduring long spells of solitary confinement. Finally, on 18th November 1991, Terry Waite, alongside an American hostage, was freed.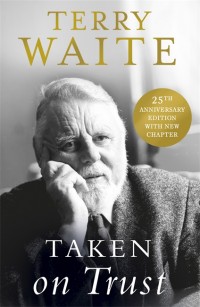 To mark 25 years since his release, Waite has re-published his powerful, best-selling autobiography "Taken on Trust". The new edition includes an extra chapter, bringing the story up to date and focussing on the current state of the Middle East. Waite's personal account of his harrowing experience documents 1763 days of endurance, perseverance and faith. Following his release, he is documented as saying he held on to three truths: "no regrets", "no self-pity" and "no over-sentimentality". Unable to contact his family during his captivity, he 'coped' by pushing thoughts of them to the back of his mind, recognising that thinking of his wife and children was just too hard.
As the former envoy to the Archbishop of Canterbury, it is unsurprising that he is often asked about his faith. Most commonly, whether in those moments of solitude he felt closer to God. He is refreshingly honest in his response, a simple: "no!" In those moments, he felt completely alone. But that doesn't mean he doubted God. For him those feelings and his faith were entirely separate.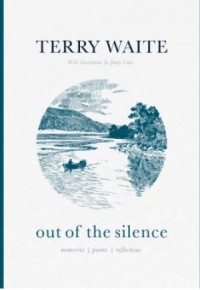 A learned man, it's understandable that he missed opportunities to read and write. Apart from once when he was forced to write a letter to his family as part of a mock execution. Instead, he wrote poems and reflections in his head which he wrote down and reworked following his release. This year he releases the collection "Out of Silence". This collection gives us a glimpse into the depths of faith, hope and love that sustained him through that intense time of suffering. They also take us into memories of his later life, reminding us of the joy and contentment to be found in meaningful work, and in the humanity, we share each day with those around us.
Throughout his work, he pays a repeated tribute to his wife of 52 years, Frances for loyalty, gentleness, determination and sensitivity, recognising in the aftermath that what Terry needed for his reintegration was space and time.
Following his release, he was elected a Fellow Commoner at Trinity Hall in Cambridge, spending weekdays here before returning to his family at the weekends. It was here that he first penned "Taken on Trust".
Despite the experience, Waite returned to Beirut in 2004, not due to a believe that he had 'ghosts' to put to rest but because he felt he couldn't advise others, in his work, to 'sit down with someone you disagree with, put the past behind you", unless he too was willing to do the same.
Terry Waite is now an author and lecture; he supports several charities including Hostage UK, Warrington Male Voice Choir and Y Care International.
November 8th, 2016 - Posted & Written by Laura White