A week of events have been organised across the UK to celebrate the life of the Archbishop Oscar Romero, the widely repsected and much loved Salvadorean Archbishop, murdered in 1980.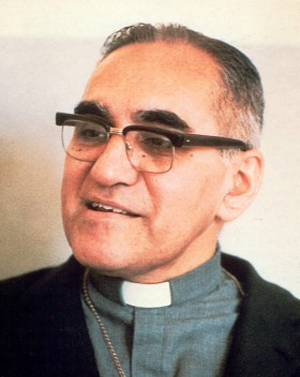 Archbishop Oscar Romero
Romero, who is remembered principally for his courageous and outspoken love for the poor and dispossessed in his country, is acknowledged as a modern martyr by many Christians across the Catholic and Protestant churches.
This year will see the 32nd anniversary of his murder, which was carried out by a right wing death squad who shot him as he celebrated Mass in a hospital chapel.
The killing came a year after the Archbishop, who is now in line for a Sainthood, had visited the Vatican and presented the Pope with seven dossiers of documents detailing the injustices experienced by the people of El Salvador.
In 2010 President Mauricio Funes issued an official apology for the assassination, which he said was carried out by killers 'who unfortunately acted with the protection, collaboration or participation of state agents'.
Romero is one of only a handful of contemporary figures to be commemorated in statue form outside of Westminster Abbey.
Now as a celebration of his life and legacy, a string of events will take place, including a National 'Ecumenical Romero Service' which will be held in the Church of St Martin in the Fields in Trafalgar Square, London, on March 24th.
The Anglican Bishop of Bath and Wells, Peter Price will give the address, and the landmark event has been backed by agencies including CAFOD, Christian Aid, Pax Christi,and the Salvadoran Embassy.
Numerous other events will take place through the week, including a study day at Mount Street Jesuit Centre, in London, and a showing of the film 'Romero' at the Lauriston Jesuit Centre, in the Sacred Heart Church, in Edinburgh.
On Friday March 16th there will be a special Mass in St Chad's Cathedral Birmingham, with Bishop William Kenney, which will be followed by a Reception and talk.
Other events around the country include Celebrations, ecumenical services, and film showings in cities and towns including Cardiff, Cambridge, Carlisle, Barnsley, Norwich, Leeds, Sheffield, and Ormskirk.
More details can be found here .
March 14th, 2012 - Posted & Written by Simon Cross